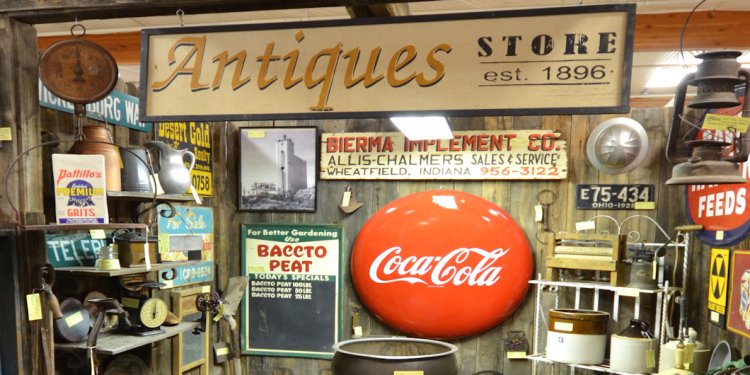 World War Two Collectibles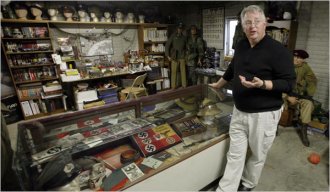 Photo
Dan Crews with his collection of World War II memorabilia in Marshall, Ill.
Credit
A.J. Mast for The New York times
WHEN Dan Crews was 15, he struck a deal that few boys his age would have considered. He swapped $20 worth of baseball cards with a neighbor for a musty World War II uniform brought back from Europe 30 years earlier.
Mr. Crews later discovered that he had gained possession of a German Panzer uniform worn at the Battle of Kursk, during a major German offensive against Russia on the Eastern front. Mr. Crews, now 46, estimates that the uniform today is worth $1, 000 to $1, 200.
Mr. Crews bought his first World War II collectible — a German eagle patch worn on a soldier's uniform — for $2 when he was 12. He now has a collection of 400 pieces of memorabilia that he estimates to be worth $20, 000; it includes American and German combat uniforms, United States Army "Ike" jackets, an M1 Garand rifle and a German peak visor cap. He paid $400 for the M1 in 1992; today, he says, it is worth $800 to $1, 000.
Having a master's degree in history, he prefers buying collectibles from families or at estate sales where he can learn the story behind what he's buying.
"It's such a popular hobby that prices have skyrocketed through the years, " says Mr. Crews, who lives in Marshall, Ill., and is director for publicity at the college of arts and humanities of Eastern Illinois University. "To me, it's more than just war memorabilia; it's collecting a piece of history."
For collectors of World War II memorabilia like Mr. Crews — who specializes in collectibles from British, American or German soldiers who served during the Battle of Normandy and the Battle of the Bulge — the war has never really ended. The collectors scour the Internet, auctions, flea markets and estate sales to find posters, documents, photographs, badges, uniforms and steel helmets that range in price from a few dollars to the thousands. A Luftwaffe general's dagger, for $9, 995, can be found at therupturedduck.com, a World War II memorabilia site that sells mostly German and Japanese collectibles.
Bill Shea, owner of the Ruptured Duck, based in Hubbardston, Mass., says he has seen memorabilia prices rise 5 to 10 percent annually, on average, over the last several decades. (The store's name comes from the saying, "They took off like a ruptured duck, " a reference to servicemen and servicewomen who were returning home and wore a cloth insignia of an eagle inside a wreath. The soldiers, however, thought the eagle more closely resembled a duck.)
There is a smaller group of collectors who specialize in buying, selling and refurbishing World War II-era Jeeps, half-track vehicles and aircraft.
Rudy Frasca, 76, a naval reserve flight instructor from 1949 to 1952, began collecting World War II aircraft in 1968, when he paid $28, 500 for a Navy FM-2 Wildcat. The value of that plane is now about $1 million, he says. Mr. Frasca runs the Frasca Air Museum in Urbana, Ill., and uses the planes he has acquired for air shows and recreation. His company, Frasca International, makes flight training equipment for airlines, flight schools and the military.
"Once we were giving a tour to some Japanese clients and we put on a dogfight between the Wildcat and the Zero, a Japanese aircraft, " Mr. Frasca recalled, referring to a simulated battle. "Our Zero has been shot down about 600 times in previous shows, but this once we offered the opportunity to have the Wildcat shot down, in return for a large order."
Mr. Frasca says that most collectible World War II aircraft cost $1 million to $2 million, while lower-end training aircraft can run $100, 000 to $500, 000. A P-40 "warbird" aircraft, now worth $1.2 million, could have been bought as surplus in the 1950s for $50.
Such high prices are something that Samuel M. Hevener, a World War II radio and communications collector, says he could never contemplate paying. Mr. Hevener, 63, who is retired and lives in Richfield, Ohio, has sold much of his collection in recent years.
Photo
It includes a German eagle patch, in the center, that he acquired when he was 12.
Credit
A.J. Mast for The New York times
He became a collector after discovering his father's gasoline rationing stamps issued to American civilians during the war. That stirred an interest in home-front rationing memorabilia. His later fascination with ham radios led to an extensive collection of war radio equipment.
In 1993, he donated a radar search receiver to the Smithsonian Institution, to be used as part of its Enola Gay display. Hollywood came calling in 2000, when MGM wanted to buy several Marine radios for the Nicolas Cage film "Windtalkers."
"I heard Nicolas Cage was getting $2 million for the movie, so I doubled my price, " says Mr. Hevener, who would not reveal what he was paid by MGM.
Share this article
Related Posts