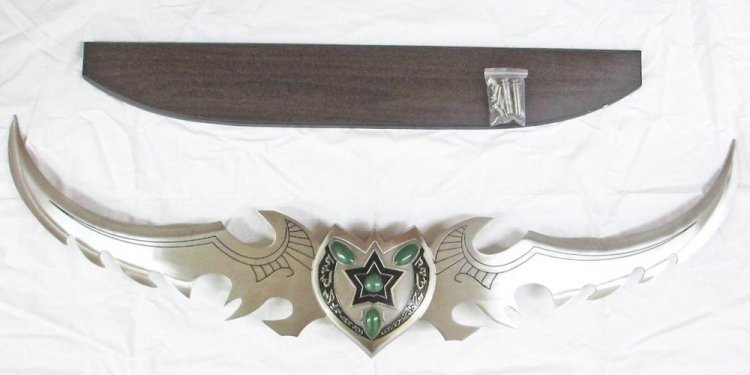 WOW weapons Replicas
Dooooooooomhammer!Review by Darkwind77 I love the Doomhammer, really I do. I just wish some of the quality was a touch better for this price. Mine has spent the vast majority of its time in display cases in my home, but even like that I just noticed that one of the metal rings on the handle (the one between the hammer head & before the one holding the leather wrap) is loose and shifts. That's going to get worse with time, and that kills me.
The other point of failure, to me at least, is the stand. I get that they were duplicating what the Epic model was, but couldn't they build more display options in than standing straight handle up? The quality issue is the material used- you have thus as a base meant to be used for a solid metal Doomhammer weighing 18lbs and you make it out of a resin type of cast material. Metal meets resin, metal wins every time. Mine has tons of bright white spots where the metal make contact and flaked off. Not good planning and that really disappoints me.
Really EPIC!!Review by Berke It is an awesome replica, it is MUCH more heavier than i expected it is almost impossible to swing it with even both hands but looks really cool on the display stand. Definitely worth its price... (Posted on 1/3/17) Best replica I haveReview by Kissaege This is my third replica weapon, and this is the highest quality one. Feels awesome, and it looks perfect on the stand. Couldn't have spent my money any better! Just Epic! - Could'nt have been made any better!Review by Wesley Very fast delivery.
I ordered the Doomhammer Replica with Display stand on and in the morning of the two parcels containing the Doomhammer and the display stand arrived at my home in The Netherlands.
I only wished there was some sort of production number, or a Certificate of Authenticity included. So you could see you got number x of all the created Doomhammer Replica's.
The Display looks great and weighs about 3KG. Now the Doomhammer iself could not have been made any better. It just feels and looks so epic and impressive! The Doomhammer is made of steel, leather, and wood. Just picking the hammer up out of the box and feeling the cold steel and small details... undescribeable.
Almost as if they made a Dark Portal from Earth to Azeroth, killed Thrall, and send the Doomhammer to me. The product is just THAT realistic, not only how it looks but also how it feels. Can definitly recommend it to any Warcraft fan and well worth the price!
The most epic Hammer - FOR THE HORDE !Review by Said I saw Doomhammer and the stand before where there were only limited amout of replicas. Now, im more than happy that ive bought such a beautiful crafted weapon.
It is heavy, well designed and deserves so much more attention than it got allready. You wont regret to buy this hammer, only when its not available anymore :)
Share this article
Related Posts