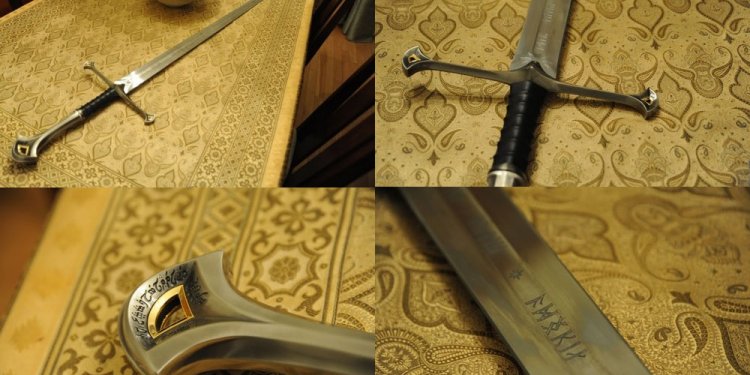 Lord of the Rings weapons Replicas
Replica's van de wapens gebruikt in de Peter Jackson films The Lord of the Rings: The Fellowship of the Ring, The Two Towers, The Return of the KIng, zoals het zwaard Anduril, Arwens zwaard Hadhafang, de boog en vechtmessen van Legolas en de helm van Sauron
Het Amerikaanse bedrijf United Cutlery maakt exacte, life-size replica's van de zwaarden, helmen, schilden en andere wapens uit The Lord of the Rings films (en later ook The Hobbit films). Zwaarden als Aragorns Andúril, Gandalfs Glamdring en de messen van Legolas worden gemaakt in de hoogste kwaliteit, met fraaie detaillering en een beschilderd wandbord om het wapen aan de muur te hangen.
Kwaliteit komt echter met een prijs. Neemt u genoegen met een vlekje of een kleine oneffenheid, dan zijn de zwaarden van Sovereign Swords een goed en betaalbaar alternatief. Eveneens exacte replica's van de filmwapens, deze zwaarden komen compleet met een schede.
Let wel: dit zjin sierzwaarden, bedoelt om als decoratie aan de muur te hangen of bij een kostuum te dragen, en niet geschikt om mee te vechten of voor LARP.
Share this article
Related Posts