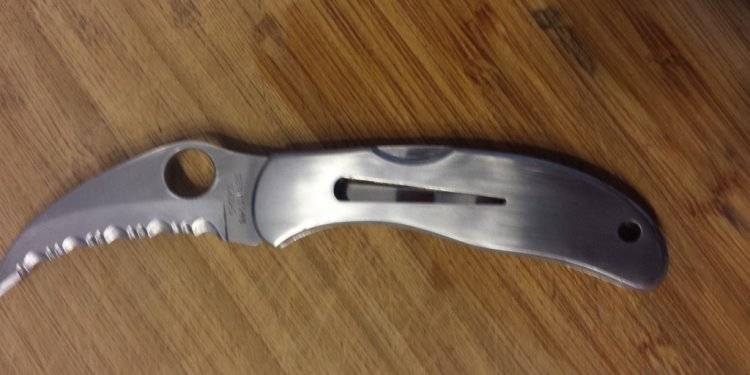 Spyderco Harpy Plain Edge
Archimedes wrote:I like a serrated knife and think the hawk bills are best when serrated. I feel the hawk bill is more of a self defense tool and not a knife I carry to really cut anything. I prefer to keep the edge factory sharp and unused. I am currently carrying a FRN Stretch in VG10 that is fully serrated and it is really fun to use. It slices amazing with serrations. It is pretty amazing. In the scheme of things when not dealing with Hawkbills I still prefer a plain edge.
Well ARCHIMEDES I remember in the old days you also liked the serrated version of the Lil Temperance> it seemed like you and Chad were the Lil T's biggest cheerleaders at the time. YOu and Chad along with a few other inspired me to try out the SE Lil T and I loved it.
But on the subject of Hawkbills I do far more with a Spyderedge than I do with my PE Hawkbills. Now don't get me wrong because I'm not saying that PE Hawkbills have little or no use because there are some food prep jobs that I've found that PE Hawkbills work great. But most of my Hawkbill usage is done with serrated blades. Mainly because a lot of my Hawkbill usage has to do with pull cutting some pretty rugged materials. When it comes to vines there is no other knife that works anywhere as good as a Spyderedged Hawkbill.
When you think about it there is a reason that probably 90% of all the Hawkbills that Spyderco makes are serrated. You can't even hardly find a PE Harpy unless you're extremely lucky. And Spyderedges don't need the sharpening and overall maintenance that plain edges seem to constantly need.
I just heard Sal say that they are going to release the Native 5 in SE> as much as I love my old 440V, SE Native it will be on my gotta have list for sure.
But if any of you do have some really good uses for plain edged Hawkbills then please share it with us. I do want to know if I"m missing out on anything. Now I do find a larger PE Hawkbill like the PE Spyderhawk to be more useful that I do the medium or small sized Hawkbills.
Share this article
Related Posts