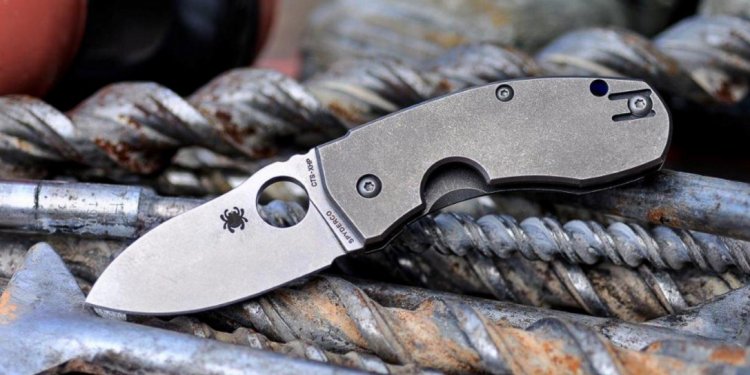 Pocket Knife Spyderco
Since starting Spyderco we've been told our knives are different, peculiar, even out there. All true. Thinking beyond established knife industry barriers allowed us to introduce new and radical innovations to the knife culture including: One-hand opening, serrations on a folder and a clip to attach a knife to a pocket. We didn't go into business to rake in a mountain of dough we're here for more selfish reasons- indulging our passion for creating knives. Spyderco is definitely out of the norm in the knife industry in our dedication to researching and developing fresh, improved and better performing materials all with function and reliability being key. Someone once said to Sal Glesser, Spyderco's owner, "You must design in the dark because your knives look so strange." True again. Our recognizable appearance is a result of designing ergonomic functional tools rather than applying lipstick and nylons to a pocketknife. We may look curious, homely, whatever, but we'll never be called unusable or undependable. Making knives that consistently deliver reliable high-performance requires an ongoing commitment to testing. In our million-dollar testing facility we examine edge retention with a CATRA machine, look for rust development with Q-FOG, check the force needed to open and close a knife. We also repeatedly test for stress, wear, optimal heat-treating and actively search for higher quality, performance enhancing steels and materials. As a customer you probably don't think about this, or much care, but it allows us to put forth a promise. When you purchase a Spyderco you are buying a high-quality reliable cutting tool designed and manufactured for peak performance and ergonomic comfort. Those Who Know Carry Spyderco.
Warranty
Spyderco knives are designed and built for use as cutting tools. Use of our knives for any purpose other than cutting is considered abuse. As with any tool Spyderco knives can wear out. They may also fail to perform if not used or cared for properly. If your knife has been put to hard use for a long period of time, it is possible that the useful life of the Spyderco product has been exceeded and Spyderco will be unable to perform any work upon the knife that will improve the condition thereof.
WARRANTY INFORMATION:
Spyderco warrants that all of our products are free from defects in material and workmanship.
Repairs to your knife performed by any source other than Spyderco Inc. unconditionally voids the knife's warranty.
Spyderco's warranty does not cover damage caused by abuse, misuse, loss, improper handling, alterations, accident, neglect, disassembly, or improper sharpening.
If a knife fails to function as it was designed, we will examine its condition upon its return to Spyderco, identify why it failed and respond in an appropriate manner.
If we determine there is a defect in the manufacture/materials/workmanship, Spyderco will repair, or replace that product with the same model or one of equal value at its own expense.
If a problem with a returned knife is determined to be caused by something other than a defect in manufacture/materials/workmanship, Spyderco will inform you of whether the product can be repaired and the cost to you of having Spyderco implement such repair (see below). Upon agreement and payment we will perform the repair.
If Spyderco is unable to improve the condition of the knife, we will return it to you with the recommendation it be retired from use. All costs associated with shipment of the product(s) are the responsibility of the customer.
REPAIR INFORMATION
Blade Sharpening: Complimentary on PlainEdges, SpyderEdges and CombinationEdges provided. Please include $5.00USD for shipping and handling.
Broken, missing or bent metal clips are replaced for an additional fee. Contact warranty and repair for more information: 800-525-7770 X255 or 303-279-8383 X255 [email protected]
For the following repairs please include $20.00USD plus $5.00USD for shipping and handling
Blade or edge- Broken tip from prying or dropping, chipped edge or broken serrations, destroyed edge due to improper sharpening, rust due to neglect or other blade issues. Spyderco does not replace blades. Depending on the blade's condition we may be able to re-profile or re-serrate.
Clips and clip screws- sheared off screws or broken FRN integral clips (can only be replaced with metal clips).
Handle- Missing Kraton inserts or other handle issues.
WHERE TO SEND YOUR KNIFE:
When sending your knife for warranty or repair- include a description of the problem and how it occurred. Include: Company or individual name, return address (no P.O. Boxes please) daytime phone number. We recommend shipping UPS or registered mail for your tracking purposes.
Spyderco, Inc.
Attn.: Warranty and Repair
820 Spyderco Way,
Golden, CO 80403 USA
Share this article
Related Posts