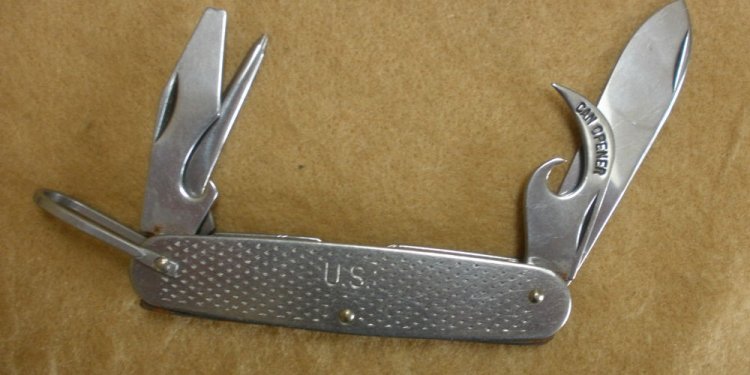 Vintage Case Pocket Knife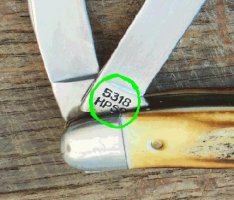 On Case Knives, the first digit of the pattern number indicates the type of material used to make the handle. For example: the pattern # 5318 tells you that the knife is made of genuine stag because the # 5 is used by Case to identify genuine stag. There are a hand-full of exceptions. Some material such as appaloosa bone, vintage stag, and others are designated with two digits.
The following is a reference of most of the handle materials used by Case.
1 = Walnut
Walnut handles are most commonly found on cheaper work knives such as the 1199 SH pattern and 12031 electrician's knife because it is relatively inexpensive to get and make into a knife handle. It is also quite rugged and durable.
2 = Slick Black or Black composition
Case began using this material prior to 1940. It has a smooth texture and most often a glossy shine. Knives made of it are very tough and make excellent work knives.
3 = Yellow Composition
Case created this bright yellow handle material for durability, and unmatched visibility. Knives made from it are almost impossible to loose.
4 = White Composition
White composition is the same material as black composition and yellow composition, but is dyed a cream white rather than black or yellow. Case discontinued it in the mid 70′s.
5 =Genuine Stag, Second Cut Stag, Red Stag, or Midnight Stag
These handles are made from the antlers of deer. It is very popular to collectors because of its beauty, durability, and the fact that no two handles look exactly alike. Over the years its availability has been limited and it has been temporarily discontinued several times. From 1972 to some time in the 1980′s, Case did not use stag for its regular production. It was used sparingly for a few collectors' sets such as the 1977 blue scroll set, and the 1978 red etched set. Following the 2000 production year, it was limited in its use again for some time because of an embargo on Indian Sambar deer antlers, which were Case's main supply. Case started making knives from left over stock, and some using antlers from deer found in other regions of the world while supplies were limited.
Genuine Stag

Genuine stag has been used by Case since its early days. The material is cut from the outer part of a deer's antler. The material is treated by flame to seal the surface. This process gives it a darker more pronounced look.
Second Cut Stag
Second cut stag is made from deer antlers. Many collectors say that it is taken from the antler after the first layer has been removed and then jigged.
Red Stag
Case's recent Red Stag is the same as genuine stag except that it is died a red color. Some red stag Case knives have an R preceding the 5 in the pattern number.
Midnight Stag
Midnight Stag is the same as Genuine Stag except that it is much darker in color. There is often an M preceding the 5 in the pattern number.
Vintage Stag
Vintage Stag Has a V before the 5 in the pattern number. This material is cut from the outer part of a deer antler, and is much like genuine stag, but is not flame treated.
Jigged bone
Bone handles come from the shinbone of cows. Over the years, it has been the most used material in making knife handles. It allows for a wide range of variations because it can be died any color, and jigged in many different ways. The earliest colors used by case were green, brown, and red. Now you can find about every color under the sun. In addition to the color variations, there is many different cutting or jigged patterns including: Smooth, Standard, Rogers, Corn Cob, Rogers Corn Cob, PeachSeed, etc…
Imitation Jigged Bone (Delrin)
Delrin was introduced by Case in 1967. It was created to look like genuine bone, but was cheaper and more durable. Knives made of this material are usually less collectible than bone, and can be hard to tell apart to an untrained eye. (especially since it has the same handle material number as bone). Case started producing delrin handled knives without a circle around the shield in 1975. Before 1975, the shields are the same.
Laminated Wood
Laminated wood handles are made from wood that is layered together and held in form by an adhesive. The wood is then jigged.
6.5 = Genuine Bone Stag
Case introduced Genuine BoneStag in 2002 as a response to an Indian Sambar stag embargo. It is made from the shin bone of cows, and is jigged and treated with flame to achieve the look of genuine stag antler material.
Curly Maple and other woods
Case uses the number 7 to represent various wooden handles. The first was Curley Maple, but now there are numerous varieties. Some of which include Rosewood and Oak.
Imitation Tortoise Shell
This material was used by case on knives manufactured prior to 1940. It was intended to look like genuine tortoise shell.
Black Pakkawood
When Case introduced the Sharkstooth pattern knife, they intended to use Curley maple handle material. Because of this, they stamped the blades with a seven. The company ended up using black pakawood. Rather than throwing out the pre stamped blades marked with a seven, Case put them on the Pakawood Sharkstooth knives.
8 = Genuine Pearl, Abalone, or Paua
All three of these materials are made up of the inner shell of oysters. Small thin pieces of the shells are color matched and bonded together to form large sheets that are later cut and shaped into handles. There is no artificial color or enhancements added.
Share this article
Related Posts