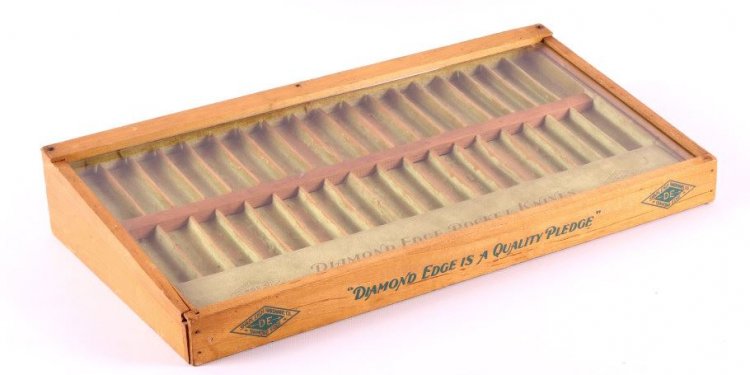 Pocket Knife Case
When it comes to customers' love for Case Cutlery, it's usually a family thing. Since 1889, the Case family has supplied handcrafted hunting knives, pocket knives, and more to generations of fans who appreciate their all-around quality and commitment to using only the best materials, like chrome vanadium and imported bone and hardwoods. This love for Case often goes beyond mere appreciation. Collecting Case knives is a popular hobby among knife enthusiasts. You can read more about it at our article on how to start a Case knife collection.
We're big fans of Case, too; so much so that we'll back every Case knife you purchase with our 60-day money-back guarantee. We love our Case knives, and we're sure you will too.
Recent Reviews - Case Knives
The knife was much better than the picture. It arrived in a timely manner and was in perfect condition
The quality of the Case 6233 is excellent. I just bought another one this morning. They are small enough where they don't wear a hole in your pocket and I don't even know it's there, but if it isn't there I sure notice it. I have owned this model knife more at least 15 years and would highly recommend it to anyone.
This Case Bowie is the pride of my cutlery collection. It's craftsmanship is perfection. I own many Case xx knives some made as far back as WWII and this Bowie is my favorite. The price ic well worth the quality that is made into this knife. The heavy thick cut leather sheath is also well worth talking about. This is a true piece of art that no one will regret purchasing! Enjoy, Joe
A very fine knife!I'd say one of Case best knives.
Pleased with quality and engraving
I have been collecting knives all my life, and I'm sixty years old now. I have to say for what this knife is its one of the very best EDC knives I've ever owned. There is nothing fancy about it except the quality and the way it keeps its edge. I would highly recommend this knife to anyone who wants a everyday work horse.
About Case Cutlery
W.R. Case & Sons Cutlery Company of Bradford, Pennsylvania, is one of the most recognized names in the knife industry. The company, which has made handcrafted knives since 1889, has introduced innovation while continuing to make knives the old-fashioned way - through the hands of skilled craftsmen.
Case offers knives to fit virtually any need, from the convenience of a handy pocketknife to working and hunting knives and specialty cutlery such as the RussLock® which can be opened with one hand and this year's new Mini Trapper with Golf Tool and Hobo® with Spoon. Case offers hundreds of different styles of knives, including many original designs such as the popular CopperLock‰, Baby Butterbean, Sod Buster® and XX-Changer®.
Case's commitment to quality begins with the materials used in production and is perfected by the talented hands of the master craftsmen and skilled employees who make Case knives.
Only the finest handle materials are used by Case. Materials include: imported Brazilian cattle bone used because of its density and strength; hardwoods such as rosewood; elegant mother-of-pearl and the new turquoise and black Jet stone.
In addition to a wide variety of handle materials, Case distinguishes certain handles with specially created patterns called jigs. Jigged bone is bone that has been notched to give it a rough texture. Jigging is done by hand for any knife sporting a Vintage Bone handle. Case has a variety of jig patterns including: Smooth, Standard, Rogers, Corn Cob, Rogers Corn Cob and PeachSeed.
Case customers have a choice of two different types of steel: the convenience of TruSharp™ surgical steel, a high-carbon stainless cutlery steel, or the tradition of chrome vanadium. While the surgical steel blades are easier to maintain and more resistant to rust and corrosion, many traditionalists prefer chrome vanadium, the original type of blade used by Case.
Case spares no expense on the internal components of its knives. While the average consumer doesn't always notice the genuine brass liners or the nickel silver bolsters, these special touches are key to making a knife that will last for generations.
Perhaps the most famous quality assurance Case has is the distinctive "XX" that each Case knife wears like a badge of honor. The stamp of quality on each Case knife blade signifies that the blade has been properly tempered and tested — not once, but twice. It is more time consuming to produce a Case knife — on average, each knife takes eight weeks to make and is touched by more than 125 sets of hands — but the folks at Case believe the end result is a knife unlike any other on the market today.
Share this article
Related Posts