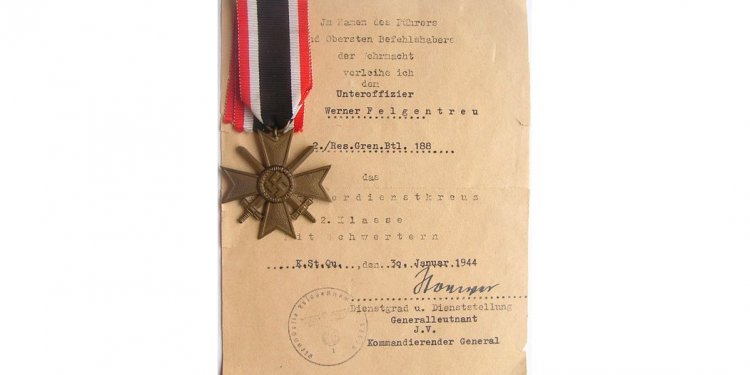 German Military memorabilia
In order to provide new materials for the multi-million dollar international trade in Nazi souvenirs, grave-robbers are digging up corpses of German soldiers in Russia and Latvia to retrieve such items as dog tags, according to British media.
Such prized items end up at military fairs or on the internet where collectors bid for them. The looted bodies are subsequently dumped in mass graves.
The trade in Nazi souvenirs is illegal in Germany and France, but legal in the UK. There is also a large market for Nazi items in the U.S.
Most collectors claim they are simply military historians, and not neo-Nazis.
Some organizations that represent military veterans are appalled by the practice.
Paul Reed, a military archaeologist, told The Times of London: "It's wholesale looting of battle sites, and the bones are just tipped into holes at the end of the day. Second World War archaeology is in its infancy at the moment, and these people are destroying our future, as well as desecrating the graves of fallen soldiers. None of them deserved to have their bones dug up."
Fritz Kirchmeier, the president of the German War Graves Commission, which maintains the upkeep of German military graves in Europe and North Africa, also condemned the grave-robbers.
"Often [our] staff discover that graves have been looted. Worst is the lack of dog tags, without which we cannot identify the soldiers, " he told The Times.
Up to as many as 3 million German soldiers were killed in Russia and other parts of Eastern Europe during the Second World War - hundreds of thousands of them have never been identified.
Martin Dodenhoeft, head of communications at the Commission told Der Spiegel, the German newspaper: "People are still looking for missing relatives today. But many have given up hope. Maybe they don't know that the commission can provide answers."
Der Spiegel reported that since the fall of the Berlin Wall, German officials have found and reburied 716, 000 German war dead.
"We're concentrating the graves. We can't preserve all of the hundred thousand sites where soldiers are buried, so we built new large ones or expanded existing ones, " Kirchmeier told the paper.
As with anything concerning the U.S. Civil War, The Beatles and Elvis Presley, and a number of other historical phenomena, Nazi Germany attracts millions of memorabilia hunters across the globe, even in Israel.
Last December, Der Speigel reported that a letter written by Adolph Hitler's armaments Minister Albert Speer at the beginning of the 1945 Nuremberg Trials fetched $10, 000, while journals kept by the infamous concentration camp doctor Josef Mengele raised $300, 000.
Nazi items may also be bought on the web. Sometimes, these sites go to great pains to declare they are not endorsing Nazism in any way.
For example, ThirdReichDepot.com says as a disclaimer: "Some of the Third Reich Nazi militaria found in this web site may be offensive to some people. Third Reich Depot has not had any affiliation with any future, present, or past political parties, military organization, or religious orders. We strive to provide authentic World War II collectibles from the Nazi Party… The items we offer are intended for collectors of World War II German memorabilia and educational research purposes only. The Third Reich Depot is sympathetic to all victims of World War II, and offers items significant to those collectors as well. World War II was one of man's greatest tragedies so we strive to continue the education and provide the public with the tools needed to further our knowledge, and to assure that we don't forget."
Share this article
Related Posts