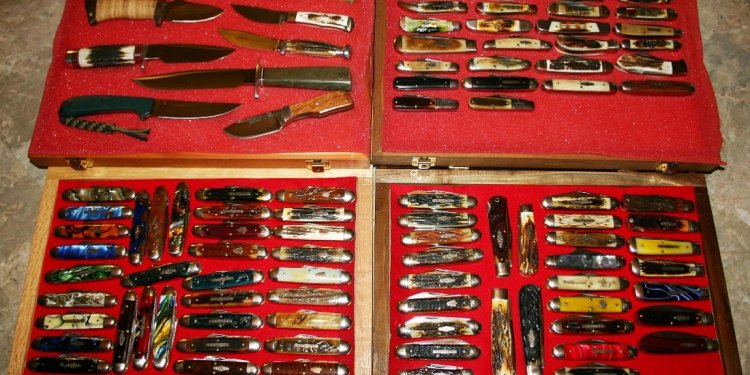 Pocket Knife Cases Displays
Since its opening in 1997, the Zippo/Case Museum has attracted thousands of visitors from over 120 countries around the world.
The Zippo/Case Museum is located at 1932 Zippo Drive, just off Route 219 in Bradford, PA. Fourteen custom-made Zippo "street-lighters" line the drive leading up to the building. Over the entrance towers a 40-foot Zippo lighter with a pulsating neon flame, and an enormous three-bladed Canoe pocketknife, symbol of the Case Collector's Club.
The Zippo/Case Museum
In the 15, 000 square-foot attraction is the Zippo/Case Museum. Exhibits include displays of rare Zippo lighters and Case knives. Interactive media kiosks showcase fun and educational facts. An extraordinary 7x11 foot American flag displays more the 3, 400 red, white and blue Zippo lighters.
Other unique exhibits include: a fascinating "knife-in-motion" hologram, and ZAC (Zippo and Case), a mesmerizing seven-foot audio/kinetic ball machine full of motion, sound, and colors produced by its gears, chimes, chutes and climbs. You might even catch the world famous Zippo Car "at home" between promotional appearances.
Additional Information
Hours:
Monday to Saturday, 9:00AM to 5:00PM
Sunday, 11:00AM to 4:00PM
Open:
7 days a week
Closed:
New Years, Easter, Thanksgiving, Christmas
Admission & Bus Parking:
Free
Handicap Accessible:
Yes
Address:
1932 Zippo Drive
Bradford, PA 16701
814-368-1932
For GPS use Chestnut St. Extension
Location:
Just off the US Route 219 Expressway
10 miles south of interstate 86
Share this article
Related Posts