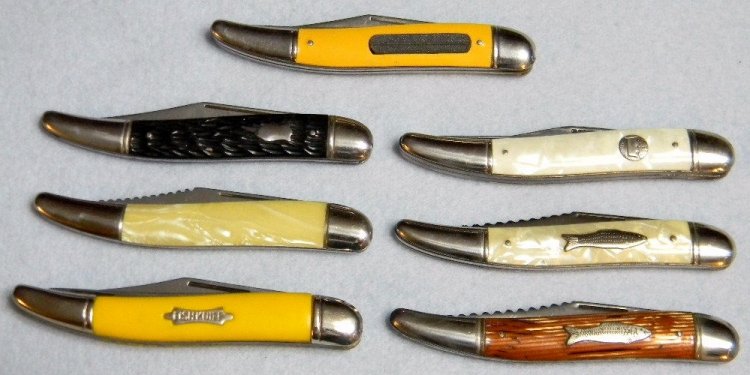 USA Pocket Knife
If you didn't know, we have an official Art of Manliness online store where we sell useful and inspiring wares, along with items for showing off your AoM pride and spreading the good word of manliness to others. We've recently added some new products that we think many of you will enjoy.
The Art of Manliness knife offers the high-quality materials, precision in German engineering, and the sharp look and fine details of the modern Böker knife. This traditional double bolster knife takes us back to the good ol' days. The knife features fine polished brass bolsters and synthetic handle scales with inlay. The blades are made of high performance 440C stainless steel.
This everyday carry is laser-etched with the AoM monogram on the outside of the handle and the Art of Manliness logo on the inside of the knife blade and makes for a perfect coming-of-age gift.
Lightweight maroon wool cap
Cream felt "AoM" on front
Custom John L. Sullivan embroidery on back
Green under visor
Adjustable brown leather strap
Nickel adjustment clasp
Black cotton sweatband
Made in the USA

Back when we wrote our book, we came across a fascinating illustration that served as the frontpiece to a book published in 1899: Traits of Character Illustrated in Bible Light by Henry F. Kletzing. We thought it would make for a great poster to help inspire men to strive for excellence.
Enlarged and sharpened to beautifully display the qualities of true character, this handsome and inspiring poster is ready to be hung on your wall and serve as a daily reminder to be your very best, As Kletzing himself writes:

"Truth is much more forcibly impressed upon the mind when accompanied by illustration, either in incident, anecdote, example or in a drawing or picture. Where the mere statement of truth in the abstract may fail of results, the illustration comes to the aid of truth and impresses and fixes the thought upon the mind."
This 12″ x 18″ poster is printed in the good old USA on high-quality, matte-finished paper.
Optional framed version available!
Other Store Announcements
We're having a clearance sale on select t-shirt designs and posters. 35% off while supplies last. Hurry, you'll never see these designs again!
Option to frame select posters. You now have the option to purchase our If, Man in the Arena, and Character posters framed. This is great for folks who are buying a poster as a gift and sending it directly to the recipient. When your friend or family member opens up the box, they can immediately hang it up on the wall and add a boost of manliness to their decor.
Giveaway and Discount Code to Celebrate
To celebrate the launch of these three new products we're going to be giving away three things from the store to three lucky AoM readers. To enter, simply visit the Art of Manliness store, and leave a comment sharing what item you would like to win if your comment is drawn. (You don't have to choose one of the new items — any item in the store is up for grabs).
Deadline to enter is . We'll then pick three random comments to determine our three lucky winners.
Also, for a limited time we're offering a storewide discount. Simply enter AOMNEW15 when checking out. Discount is good until October 31, 2013.
Share this article
Related Posts