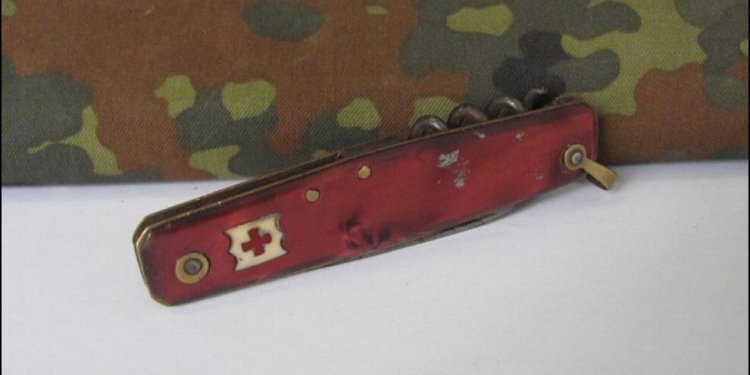 German Pocket Knives Collectables
We all remember our first folding knife or pocket knife, whether it was a Swiss Army multi-purpose monster, complete with toothpick and tweezers, or a slender single-blade antler-handled Case. But folding knives predate the blades made by either of these venerable companies. The jack knife, a derivation of a knife invented by a Frenchman named Jacques de Liege, dates to the 16th century, while the Barlow, named for English cutler Obadiah Barlow, is from the late 17th. As for the peanut, this two-bladed knife, usually less than three inches long when closed, takes its name from its diminutive size.
Just about all folding knives are constructed from the same basic parts. There is the blade, of course, which is referred to as the master blade if the folding knife has more than one. And the knife's decorative handle, or scale, is often bookended by bolsters made of a material strong enough to help support the pin that acts as a pivot point for the blade.
Strictly speaking, jack knives are knives whose blades open from the same end. A Barlow is a type of jack knife whose handle widens at one end to give it a kind of teardrop shape, which makes it easy to grip. Scout knives, sometimes called sportsman's knives, have blades that pivot open at either end. Indeed, these knives, exemplified by the red-handled contraptions made by Victorinox, are probably best known for blades that aren't blades at all—screw drivers, bottle openers, fish scalers, nail files, punches, and saws are just a few examples of the tools found on these knives.
Other common knife patterns include the straight-sided physician's knife, the whittler (which has a hump in its back to give the user something to grip), the thin pen or office knife, and the hunter (traditional versions of this design swell at the center while modern versions have a carved-out top and a mechanism on the knife's back that locks the blade into position).
Giving the user a safe way to unfold a blade is usually accomplished by creating a notch, or pull, close the blade's spine. Sometimes these pulls will be long, running from the blade's tang halfway to its point. Others are the size and shape of the end of a fingernail—depending on the design of the knife, some blades have pulls on both sides. Then there are knives whose blades can be opened with one hand, such as those with a hole or thumb screw near the spine instead of a pull. In fact, variations of these so-called one-arm knives have been around since the Civil War, when folding knives that could be opened with only one hand were a sad necessity of that conflict.
For knife collectors, some of the most sought-after brands include Buck, Camillus, Case, Queen, Remington, and Schrade. Although not the oldest knife manufacturer in the United States, Case is perhaps the most widely collected. Founded in 1889 by four brothers, the New York company stamped the words "Case XX" or "Case XX Tested" on the tangs of its master blades prior to moving to Bradford, Pennsylvania, in 1905, when, until about 1920, Case knives were identified by their new location.
Over the years, the handles of Case knives have been made of everything from abalone to walnut, but the material Case is best known for is stag horn, otherwise known as deer antl...er. The most collected knives have stag handles made from the outside of the antler; most of these are flame-treated to give them a distinctive, outdoorsy finish, in dark browns, reds, and shades of black. Other handles are made from interior slices of antlers, which are then carved, or jigged, to replicate the bumpy appearance of an antler's outside surface.
The roots of Schrade date to 1904, when the Schrade brothers set up shop in Walden, New York. Walden was already home to two other knife companies, including New York Knife, which manufactured the first official Boy Scout knife in 1911. Schrade blades ranged from those designed for pruning to others made to cut rope (the Navy knife). In recent years, since the 1960s, one of Schrade's most popular models has been the Old Timer, which was made in Barlow, Woodsman, and Hunter, and other patterns.
Though perhaps best known for its firearms, Remington was an important manufacturer of folding knives between the two World Wars. The product line was simple (just about all Remington pocket knives had between one and three blades), but there were hundreds of patterns. In particular, Remington knives can be differentiated by their handles, many of which were made out of a proprietary plastic called Pyremite, which could be dyed in a rainbow of colors. Some of the most collected Remington's are its Bullet knives, which featured bullet-shaped shields on their antler or jigged-bone handles.
Share this article
Related Posts