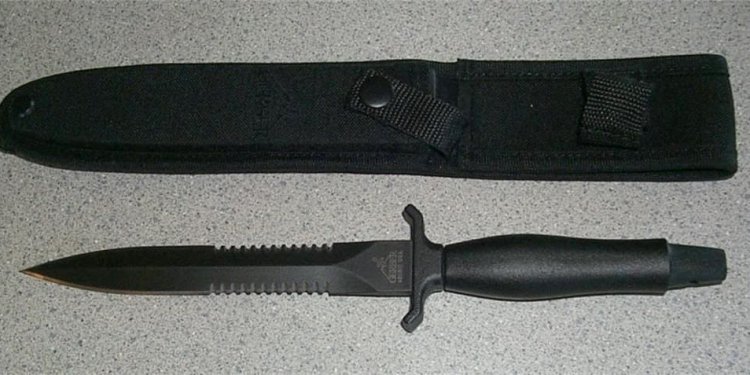 Gerber Military Knives
Own this knife it has never let me down it stays sharp and always gets the job done I recommend this knife
the DMF auto folder has worked perfectly for me i have used it as a back up while conducting military law enforsment and as a fire fighter now i carry it with me every day the best knife i have ever owned.
This is an awesome knife. The action is smooth and quick, the blade holds an edge very well, and it is very light. The only thing I wish we're different is the serrated edge length. Other Gerber knives have a longer serrated edge and an overall same blade length, so just the actual blade starts higher, they could have offered more edge space and brought the serrated edge down closer to the handle.
love this knife. i had two. one got stolen in afghanistan, on got stolen after i got back.
I purchased the Dual Multi-Function AUTO (DMF) tanto serrated knife as a one hand opening work knife and not a quick opening switchblade. Gerber did not disappoint me. The knife has cut seatbelts, rope and window screen without a problem. The blade locks in place every time and I have no worries of it closing on my fingers. I really like the lock on the spine and not on the handle, as with most auto knives. This was a good purchase.
I purchased this knife for about $165.00 on base. (For some reason only Marines were allowed to purchase in Ft. Lee, no sailors, soldiers or airmen.) Excellent build quality, works great to opening MRE's, Very durable, Works great out in the field for cutting rope, cutting wires, etc.. A little heavier, but well placed handle and feels great in your hand. Closing the knife if not careful my friend cut his hand. Center point is well balanced, wants to drop perfectly and will stick if dropped into wood. Not sold to civilians and is considered illegal back home in California.
I was very disappointed with the blade sharpness, especially the serrated portion which was dull when compared to my Spyderco. Overall the knife is good quality and feels really nice when handling. The spring operation is good, not too fast. Still debating if I should return it or just have it sharpened because then this knife would be a GREAT knife.
@switchblade, So you can buy an Auto knife on amazon? not sure about that
would you expect to buy an ak, a 357, a boat, or even a car without having to maintain it? Take care of your weapons and they will take care of you. I've owned a gerber lock back for over 24 years and all i've ever had to do was keep it sharp, oiled, and tighten the screws about every 2 years. Never has there been more intelligently designed weapons on the planet Appreciate and take care of this.
I dont know why more people buy this knife. On this website it says credentials required but really you can buy this knife anywhere for 200 bucks. Amazon.com even sells them
Share this article
Related Posts