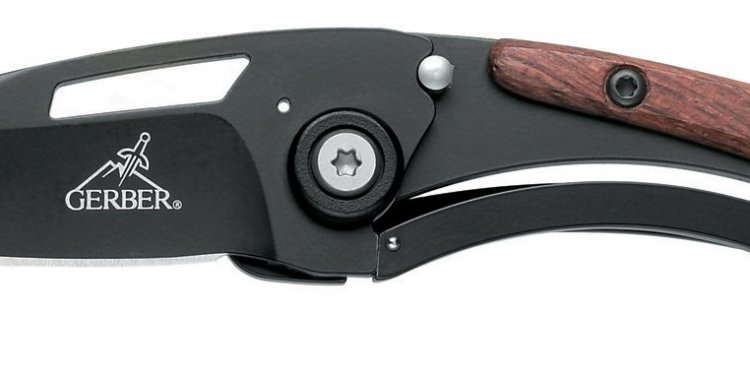 Small Gerber Knife
I bought 2 of these. One for my son, and one for myself. Within the first week the rubber came loose near the blade.
It is very hard to open. Very hard! I have extremely strong hands and it actually hurts to try and flick this knife open.
The rubber came off the second one just like the first, about a week later.
A useless piece of junk.
Nice looks but just not useful at all.
Do not buy!
Same problem as others, it's just to hard to open. Mine was so hard to initiate opening that you have to take a screwdriver with you to pry it open. I finally gave up and pitched it in the trash. Worst Gerber I ever experienced.
I have carried this knife for a few years and have absolutely loved it. It takes and keeps a razor sharp edge when properly maintained which, to me, is the most important feature of a knife. My only complaint is a minor one and was already mentioned. The rubber around the edge does tend to come off but it's never affected the function of the knife. I would imagine some superglue would solve that issue. I'm buying my second one because I dropped the first and didn't realize it. As far as a simple pocket knife goes, this is the best I've ever carried.
Bought this knife 6 days ago. I was very excited as I went to the store to buy it, as I had my eye on it for a couple of weeks. I hadn't bought any knives in a while (I currently own 19 Gerber knives, love the fixed blades by the way).
The knife was a possible 4 or 5 star contender, small, deep carry pocket clip, good in hand, ball bearing pivot, razor sharp fine edge and offered one handed assisted opening (or so I thought).
This knife was nearly impossible to open (had to use two hands). Tried opening and closing for 1 day, then put some light oil to the pivot point and then tried for a couple more days opening and closing. It got a bit better but far from one handed opening. By this time my thumb was sore as hell. Tried loosening pivot screw, no difference. it seems the initial force needed to overcome the torsion bar is just to much for a knife this small (maybe a larger repositioned thumb stud). I have an outrigger and outrigger xl they are also a bit tight but you can get more thumb behind the thumb stud so they are ok.
Went back to the store to exchange it. After trying 5 more mini outriggers in the store with the same problem I decided to go with a different brand even though I preferred the look and feel of the mini outrigger (don't need a knife I have to struggle with to open or possibly cut myself trying to open). Has anyone in quality control tried to operate this knife one handed? I hope someone at Gerber with the power to do something about this problem (which seems to be plaguing many of your folding knives) does so before you loose more business.
I initially liked this knife a lot because it was small. I never go anywhere without a knife, and this one was comfortable and seemed sturdy. A couple months of use revealed that the black rubber/polymer started detaching from the metal, to the point where it would inhibit the blade from opening and closing. I called customer service who offered a replacement of the same knife. I sent it in and received a new on in a timely manner.
Share this article
Related Posts