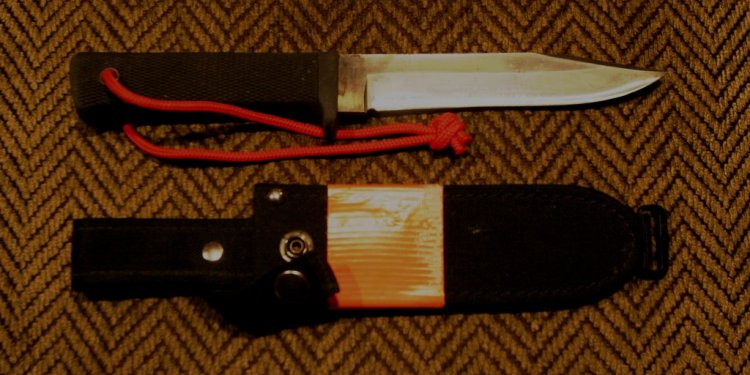 Gerber Knife steel
300.00 knife in a 600.00 box. looks pretty nice. This is the quality that should make anybody proud. Just wish it was more affordable!
Although a little more than I typically spend for a knife, I will buy one for myself.
I always buy gift knives for our Guides, nothing but quality knives, but I think the Legend will have to be their own investment.
Tell you what I am searching ... the small version of the ' 650 ' with serrated edge ... I'll buy a dozen if you have them, best gifts I've ever given.
I'd love one.but would love one that was a bit smaller...and a bit less expensive even more.
I have finer pieces of steel which I paid less than half your desired price. While Gerber makes some excellent blades in the 60 to 100 dollar range, this knife really should only cost 300 to 400, any more is pricing out your most loyal customers.
That is one cool looking knife, good steel and ergonomics...but for almost 1k$.comeon that is too damn much...
This is the kind of knife that you start hinting to a loved one for starting in January until Christmas. I will never see one, out of reach for us. To bad the Marine Corps. didn't issue this knife to us in Vietnam. Wow! What a knife.
Way over priced, did I mention it's way over priced! for that much I could get 4 Benchmade blades or several of any number of high quality blades! But it is a nice looker though!
Looks like one of the best fixed blades that Gerber Knife has seen in awhile. Looking forward to owning one of my own!
Looks like an amazing knife but i will never be able to afford it, it probably cuts like a dream.
Just bought this and took it out in the Forest for a 5 day camping trip and made a wood knife in 2 hours. Best knife ever
beautiful but so over priced that its not worth oggling over. hand made is fantastic but not that fantastic
800.00 bucks! good luck with that.
Unbelievable!
Gerber has always been knives and tools, that have been above and beyond the rest!
That being said; I am astonished that Gerber would even publish this astronomical price!
I own several Hand made Knives, produced by some of th greatest Knife makers ever, and th most I've paid for any of them, has been $200-$300.
In a word, Unbelievable!
me gusta, cuando sale y si es posible mandarme a la argentina soy de la provincia de corrientes
Although I'll never be able to afford it I feel that those who can will have a true heirloom to be passed down for many future generations. Just another reason to thank Gerber for the work they do.
The knife looks great and seems like it would be a great tool and would be a great item to keep forever, the sheath looks just as great and seeing as it was made by tanner goods it should last just as long as the knife. However, I totally will never hold one of these knives or use one due to the unbelievable price of $799. $799 put this knife above buy-able and well above usable, if I could ever justify buying one, it would never leave its box. I'd be too afraid to scratch/break it.
this knife is already on sale on basspro.com for 750$
Rumor has it that this knife is going to drop $700 out of your wallet.
This knife is simply a out standing looking and quality built knife it will have a great feel in the hand a 6.1 oz. The price tag is a lot of money but it is understandable as longs as it is %100 hand made.
this is the coolest knife I have ever seen
I would love to see when this knife comes out so I can buy it! I am really excited to try it out.
its looks like an amazing knife but the fact that its 700$ will probably deter 90% of all possible buyers.
I've carried and used Gerber fixed blade and folder knives for many years. I am looking forward to getting one of the "Legend" knives. Great job Gerber !
I've been hunting and fishing for over 30 years. This knife is, quite simply, the finest I have ever held in my hand.
It's the kind of knife your grandson looks forward to inheriting...
this is the best knife in the world
when is this coming out!!
Wow, that's all I have to say.
I love this knife is the best I have seen, specially because of how much it represents the company and the quality of the knives.
Share this article
Related Posts