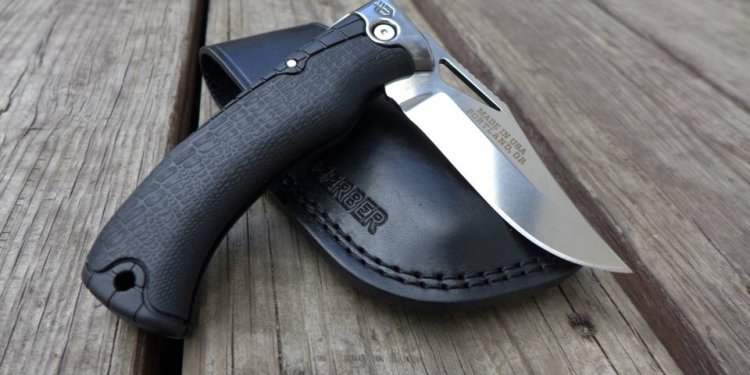 Gerber Knife Company
1967
H. Joseph Gerber introduces the GERBERcutter® System 70. The first production unit of this cutter is on permanent display at the National Museum of American History in Washington D.C., to mark the historical role the GERBERcutter played in bringing automation technology to the apparel and allied industries.
1968
Gerber Garment Technology is formed. H. Joseph Gerber later invents the world's first automated cloth cutting machine, a machine that revolutionizes the apparel industry worldwide.
1970
Gerber installed its first GERBERcutter at the John Meyer Company in Norwich, Connecticut
1978
Introduces the GERBERcutter System 91 with patented Knife Intelligence feature. The Knife Intelligence feature senses the deflection of the knife that occurs when cutting difficult materials or high-ply spreads and automatically corrects the knife angle to compensate for this deflection. The result is more accurately cut parts.
1980
Acquires the AM-1 computer-aided design system from Hughes Aircraft Company. This was the basis for a next generation apparel CAD system, the Gerber AM-5.
1982
International expansion continues with office openings in the U.K, France, Hong Kong, Italy and Canada. The acquisition of CAD company Camsco, Inc. further solidifies the company's position as the leader in computer-aided design.
1988
AccuMark®, the first PC-based pattern making, grading and marker system is launched to the apparel market.
1994
Former President Bill Clinton presents Joseph Gerber with the National Medals of Technology and Science at a ceremony at the White House in Washington DC, USA.
1994
Gerber acquires Microdynamics, Inc. of Texas USA, developers of MicroMark pattern design, marking, and grading systems, and Niebuhr Maskinfabrik A/S of Ikast, Denmark, inventor and manufacturer of the world's leading automated material spreading equipment. The company revolutionizes pattern design with the introduction of the Silhouette™ pattern drafting table.
1997
Gerber acquires Cutting Edge Systems of Massachusetts, pioneers in the single-ply cutting arena. Building on this technology, Gerber designs the highly successful Taurus™ automated leather cutter.
1998
Company name changes from "Gerber Garment Technology" to "Gerber Technology" to better reflect the diverse markets it serves.
2000
Gerber unveils the Advanced Technology Center in Shanghai, China. The 2, 500 m2 (27, 000 ft2 ) center is a dynamic hub for product demonstrations, software testing, system training, engineering and R&D activities and is the first of its kind in Asia.
2004
Gerber introduces the Infinity AE Plotter, making it the first foreign CAD/CAM supplier to manufacture products in China for the local market. Receives 2004 Export Achievement Award from the U.S. Department of Commerce. The award is presented to companies whose exports increase consistently year over year and account for a significant portion of revenue.
Share this article
Related Posts