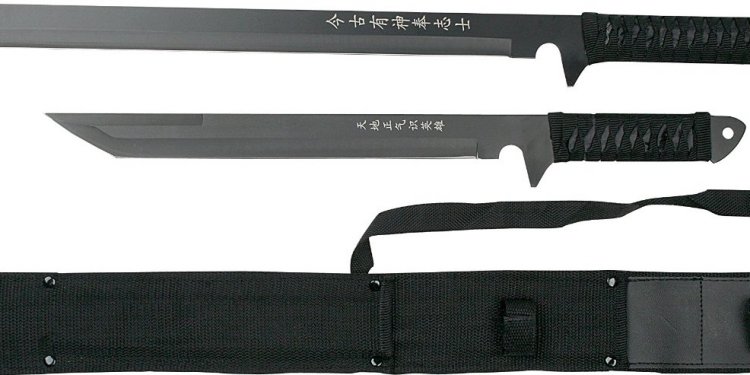 Cool Ninja Swords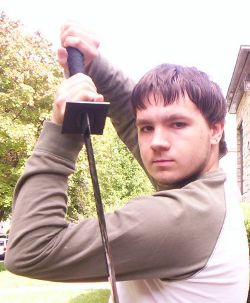 A functional Ninja sword for under $50 seems like a deal too good to be true. And yet, while young sword enthusiast Jesse Haushalter found that this very affordable sword to be a very good deal – it obviously falls a little shorter than the kind of Hanwei blade I reviewed here – it is also around a quarter of the price...
Musashi Koga Ninja
Review by Jesse Haushalter, Cudahy USA
Steel
Price Range

1045 Carbon Steel
US$44-$79
I ordered the Koga Ninja sword from and it ran me a cool $75 + $8 for Fed Ex Express Shipping (Editors note: actually, now they are $44! See the bottom of this review for info).
Therefore this sleek, blackened katana arrived at my doorstep for about .

Not a bad deal especially when you consider that it arrived in 3 days.
INITAL IMPRESSIONS
The Ninja sword came packaged inside a sturdy cardboard box, and inside of said box was a slimmer, more ornately decorated box that bore the Musashi logo and the kanji for ninja. Upon tearing through the cardboard with a carving knife, and gingerly opening the Musashi box I came into contact with the sword itself. It was placed between two Styrofoam pads and was covered in bubble wrap. (sorry no photo for this) As I began inspecting the saya and tsuka I marvelled at the style of the sword. Uniform black.. you can't go wrong there.
~TSUKA: A black cotton wrap, with faux black rayskin panels and 2 bamboo mekugi. Take note of the blackened copper menuki. My initial impressions of it were mixed. I like the black rayskin even though it is a little too off-purple in hue. I also found the cotton wrap to be very comfortable. Though it felt a tad loose, but not so much so as to cause unravelling.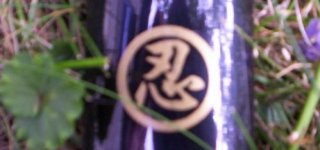 ~SAYA: The saya is lacquered in a heavy piano lacquer and stamped with a kanji that signifies "NINJA". Neat.
~TSUBA: A typical square tsuba adorns the sword.
Upon my first inspection it seemed to be well painted, but after taking another look at it i noticed that the paint job was quite imperfect.
As you can clearly see several splotches of copper. Eh, it's a $75 Ninja sword, so this in and of itself is forgivable, and easily fixable.
~BLADE: Upon looking at the blade I was taken aback by how well done the anodization was. It looks flawless, like a blade made out of pure ebony. Obviously no one would see this blade at night. (which is part of it's purpose) Though it does have a tendency to reflect light. So a matte finish would have been more effective, albeit' less aesthetically pleasing. Overall I like the finish on the blade.
~SWORD STATISTICS~
Overall Length: 40 3/4in
Blade Length: 27in (edge)
Handle Length: 10.5in
Handguard Width: 3in
Blade Thickness: 0.125
Overall Weight: 2lbs - 2lbs 10 oz (I don't have a scale)
HANDLING CHARACTERISTICS
I like the way this Ninja sword feels in my hands. It's lightweight, agile and it's very easy to make devastating slices with it. Thanks to the (mostly) razor sharp blade. A plus with this particular sword is that unlike many other swords musashi sharpened this one all they way down to the habaki.




Share this article
Related Posts