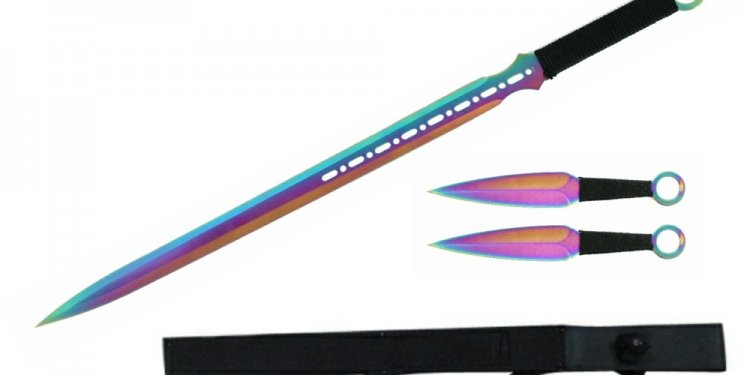 Collectibles Swords and Knives
Q: Are these knives real or digital?
A: The knives we have available are all real knives with steel blades. All of the knives we make are intended for collection or display purposes only.
Q: Do the knives come sharp or dull?
A: All knives are sent sharp unless otherwise specified. There are some blunt/dull knife options available. This means the knife will be completely dull and unable to cut.
Q: What do the dull knives look like?
A: The knife looks almost exactly the same as the sharp version. The only difference is that the edge where the blade would be sharpened is left untouched. This results in slightly more of the original finish being left on the blade.
Shipping
Q: Where does the order ship from?
A: All of our orders ship from our European warehouse with 2-6 business day delivery.
Q: How long before I receive my order?
A: All orders are fulfilled within 1-2 business days. Depending on the shipping option selected at checkout, this will determine the estimated delivery date. Please refer to the tracking number provided to get an exact estimate on the delivery time.
Q: Do you ship internationally?
A: Yes, countries we ship to are listed on our international shipping list. We fulfill orders from the US and EU depending on the shipping address of the order.
Q: Will my knife be taken by customs?
A: US orders will be fulfilled via our US warehouse and EU orders will be fulfilled via our EU warehouse. This will result in these shipments never being inspected or delayed by customs. For shipments to Canada or Australia, we cannot guarantee that all orders will make it through customs. We have restricted those storefronts to knives based on our success rate of shipping to those locations.
Order Processing
Q: What payment methods are accepted?
A: We currently accept all major credit cards including Visa, Mastercard, and Discover.
Q: Is my personal information safe?
A: We do not share customer information with any 3rd parties. The only information we use is your email address and shipping address to ship your order and send your tracking number. Payment information is never stored on our website.
Q: What is your return policy?
A: Our policy lasts 14 days from the delivery date. If 14 days have gone by since the delivery of your purchase, unfortunately we cannot offer you a refund or exchange. For more information view our return policy.
Legal
Q: Are these legal in my country/state?
A: If your country is listed on our accepted shipping list, we have verified it is legal to import the knife. Keep in mind these are collectible display knives that are not intended for regular use.
Q: Are EK knives considered as "zombie knives"?
A: No, we are in no way associated with zombie knives. For more information please view our zombie knife article.
Q: How old do I have to be to buy a knife?
A: We require all purchases to be completed by someone of legal age. The age is determined on the state/country level. Some states will allow purchases made by minors that have parental permission. By agreeing to our terms of service at checkout, you are confirming the purchase is being made legally.
Share this article
Related Posts