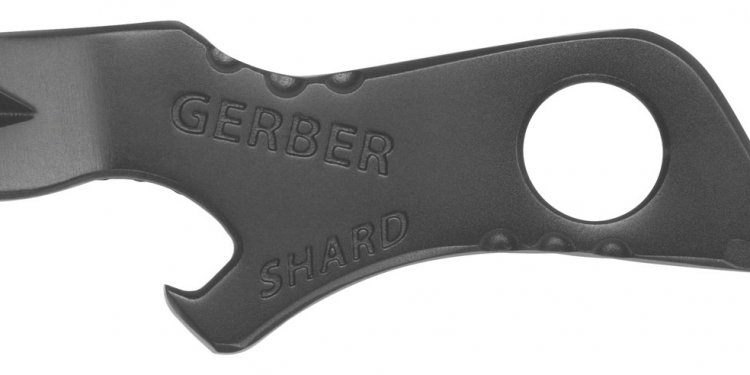 Gerber Cool Tool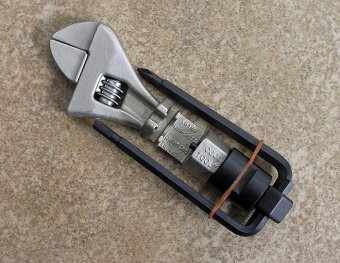 The Cool Tool was one of the very first multi-purpose bicycle tools. Based on an adjustable wrench, it offered the user a wide range of capabilities in one convenient device. A few early models were lightweight titanium and made in the USA. The majority were made from stainless steel and imported from Taiwan. Only later did Gerber acquire the rights to produce and sell the Cool Tool.
Cool Tool components
Titanium model
Original Patent Drawing
Wrench
An adjustable wrench forms the basis of the Cool Tool. Its jaws open up to 11/16" (18mm) The jaws themselves are particularly narrow, allowing them to reach areas inaccessable to most wrenches.
The "handle" of the wrench is the frame of a bicycle chain tool. When used in conjunction with the threaded pusher rod, it allows the user to break down and reassemble individual links in the chain.
Stainless models: finish is cast matte. The name "COOL TOOL" appears at one end. The numbers (916) 893-3079 and the words patented Taiwan are cast into the handle.
Titanium models: finish is cast matte. The name "COOL TOOL" appears at one end. MADE IN USA is cast into the wrench head. The numbers (916) 893-3079 are on the opposite side.
Large double-ended socket. One side is 15mm, the other side is 14mm. Two slots in the side of the socket allow it to be turned with the adjustable wrench.
Double ended hex driver. One end is 8mm, the other end is 10mm. A hex hole through the center allows it to be turned with the 6mm wrench.
6mm wrench. One end is 6mm hex, the other end is a phillips screwdriver.
5mm wrench. One end is 5mm hex, the other end is a 4mm wrench.
Note that all removable tools are produced from carbon steel.
Other Features
The bottom of the wrench handle has a small notch that functions as a spoke wrench.
Sheath
None at first. Generic nylon with velcro closure after Gerber took over sales.
Dimensions
Length = 5" (130mm)
Width = 1-3/4" (42mm)
Thickness = 7/8" (22mm)
Weight, stainless = 7.5 oz (214g)
Weight, titanium = 5.9 oz (168g)
Variations
Stainless steel model was made in Taiwan, titanium model was made in USA.
History
The Cool Tool was originally conceived and produced by Robert Seals, who also designed the Retrotech bicycle frame, folding sound stages, solar sound stages and the KleenKanteen. Sometime around 1996 the production rights were acquired by Gerber. No differences are apparent between the original tools and the Gerber tools except for a cast GERBER logo.
None.
Share this article
Related Posts