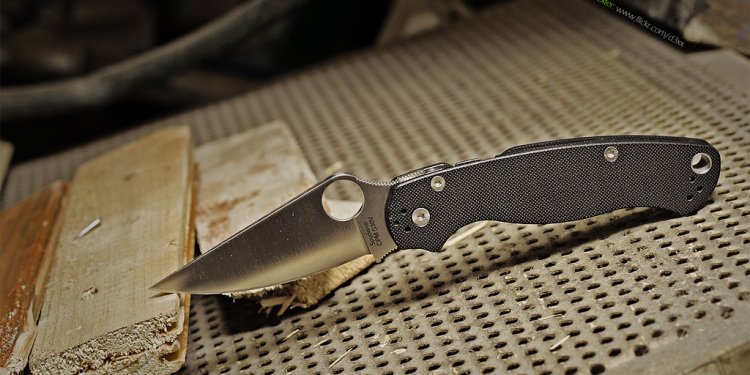 Spyderco USA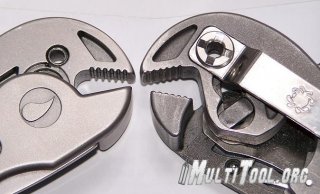 A bit of history is in order. Spyderco initially manufactured the SpyderWrench in the US, but due to the complex design and the cost of manufacturing, it was difficult to meet proper production numbers, prices soared and eventually, the SpyderWrench was dropped. Unfortunately, interest in the SpyderWrench didn't wane quite as easily, and Spyderco eventually decided to bring the design back, but some changes had to be made. First thing was the manufacturing for the SpyderWrench had to be moved to Taiwan, and another more budget conscious version (The ByrdWrench) was to be manufactured by Spyderco's discount contractor, Byrd Knives of China.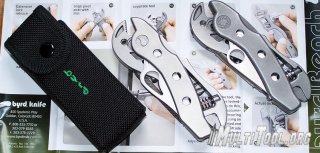 The versions reviewed here are the original USA manufactured SpyderWrench (SW) and the new ByrdWrench (BW). All in all, despite the two different worlds of manufacturing, the SpyderWrench and ByrdWrench are actually pretty similar, although different "trim" levels that I will discuss below. For simplicity's sake, I will call it just Wrench when referring to common traits among all models.
Overall, the Spyder and ByrdWrenches are very similar, featuring slip jointed pliers at one end, an adjustable wrench at the other, a one handed opening knife blade somewhere in the middle. Mixed in as well are a double ended screwdriver (SpyderWrench only) with file and 4 standard 1/4" hex screwdriver bits- two phillips and twp flatheads- which fit into a slot at one end of the Wrench.
For convenience in using either the adjustable wrench or the screwdriver end, the Wrench can fold 180 degrees and lock on itself and provide a significant extension for leverage. In those instances where you need both the wrench and a screwdriver, the Wrench can split at the plier joint and allow you use of the adjustable wrench and the screwdriver (or knife) independently of each other. It's like having two tools in one!
Share this article
Related Posts