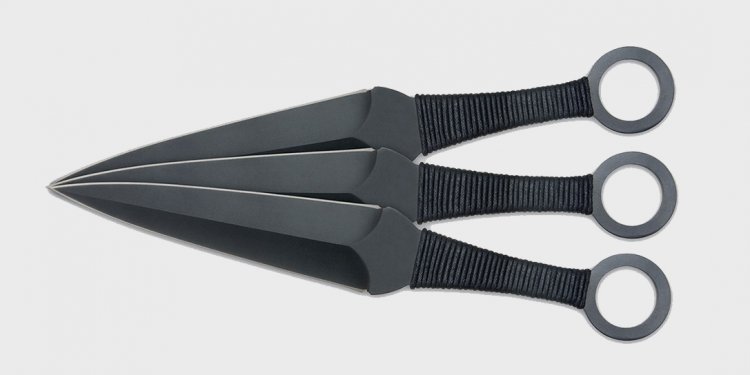 United Cutlery Throwing Knives
The handle must be of high quality. A slippery handle would not do you well when cutting or throwing. A sticky rubber handle won't last long and will get in the way when you throw. Good choices are paracord (550 cord), grip tape, and even grooved metal.
The sheath must be of high quality. A blade with a poor sheath is a disaster waiting to happen. A poor quality sheath will also not protect the blade and can reduce it's life. Cor-ex and leather are good sheaths. Nylon is ok.
The tang is the part of the blade that extends into the handle. No tomahawks here have full tangs because it is rare to find an axe with a full tang (too heavy and not designed like that by tradition). However, the junction between the tang and handle must be strong. Traditional axes have wooden handles that are just jammed into a hole in the axe. This is not good for throwing since it can easily fall apart. Throwing tomahawks usually have 3 screws to hold the head and handle together.
The metal of a tomahawk is usually stainless steel but you can find some carbon steel tomahawks. Carbon steel is harder than stainless steel so it will retain a blade longer; however, carbon steel will rust easier than stainless. Stainless steel is soft compared to carbon steel and won't crack if it hits a hard object.
SOG Fast Hawk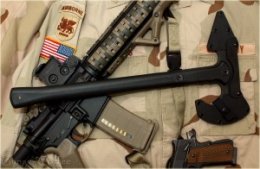 The SOG Fasthawk is one of my favorite toys. SOG is a company formed by a few special forces veterans who wanted to produce great field equipment. The Fasthawk is no exception to that.
It is is 12 inches long and weights 12 ounces. The head is made of stainless steel and the handle is made of polymer. There are are 3 bolts that secure the head to the handle. This Fasthawk is a scaled down version of SOG's Fusion Tomahawk–a Viet Nam era tomahawk replica. The smaller scale makes the fasthawk spin faster when you throw it. It is also easier to carry on a hike or ruck march.
The handle has a 2.75 inch blade that is very sharp as well as a hard spike at the opposite end. The hard spike is not sharp and would not stick into wood unless you sharpen it.
The Fast Hawk fits in your hands very well and the polymer handle has a good slip resistant grip to it. The Fast Hawk comes with a nylon sheath that is good but not great. The nylon can feel a bit cheap. The sheath has a belt loop.
All SOG products comes with a life time guarantee and, most likely, you won't need to use that since this product feels very secure. It is great for combat, breaking down doors, close quarters fighting, as well as throwing.
This is one of the best selling tomahawks on Amazon and is rated 4.5 stars. Most reviewers simply love this product. People mention how they gave the Fast Hawk as a gift and their recipient loved it. The Fast Hawk retails for and is available on Amazon for .
Cold Steel Trench Hawk Axe Throwing Tomahawks
This is Cold Steel's answer to SOG's Tactical Tomahawk, the Fasthawk we reviewd earlier is a scaled downed version of the Tactical Tomahawk. The Trench Hawk Axe is made of carbon steel, whereas the Fasthawk was made of stainless steel. Carbon steel holds a blade better than stainless. It is 19 inches long and weights 24 ounces–I'll surely give you a loud thud when you hit something.
Unlike the Fasthawk, the Trench Hawk Axe features a sharp spike at the end. This is useful for self-defense as well as hitting targets from odd angles. The handle is made of Polypropylene, a very stable and secure plastic. There were some reviews that stated that the handle would break after hard use, but those reviews were rare and I felt that some serious abuse was going on (like throwing at cement). The real issues with the handle that I've found was that it is a bit slippery. This is good if you wanna throw the axe but bad if you want to chop down stuff.
The sheath is great. Made of Secure-ex, the sheath attaches great to MOLLE or any other military gear. It is much more stable than the nylon sheath that came with the fast hawk. This sheath also allows you to carry it on your belt.
A big issue with this knife is that the design limits you from doing camping chores with it. Cutting wood can become difficult if the wood hits the handle and gets stuck there. If you want a cool throwing tomahawk that can also do camp work, I would go with the Fast Hawk. The Trench Hawk Axe retails for $70 but you can buy it on Amazon for $50.
Black Ronin by United Cutlery Throwing Tomahawk
United Cutlery is another well known brand in the industry. The Black Ronin was designed to be a throwing axe and only a throwing axe. It is a full tang tomahawk that is made of stainless steel. The handle is wrapped with 550 cord for grip. The sheath is made of ok nylon.
Share this article
Related Posts