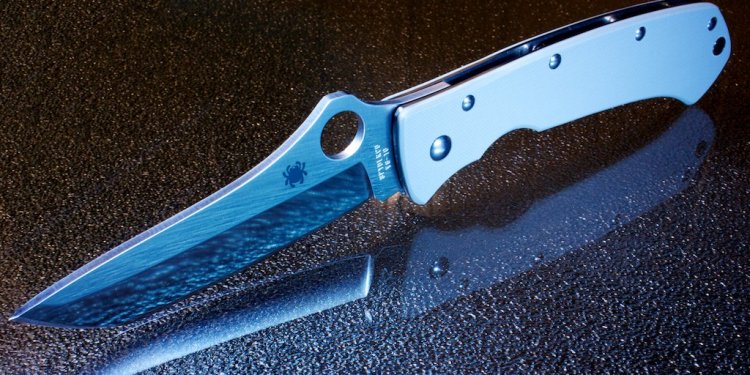 Spyderco Tanto folder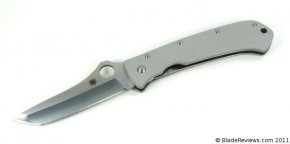 I recently acquired a Spyderco Bob Lum Tanto. This is a sprint run (limited edition) knife limited to around 700 pieces. It's a pretty unique offering designed by custom maker Bob Lum. As you probably know, Bob recently passed away (RIP) and so this knife is very special for many reasons. In addition to being a limited edition run, the Lum has a tanto, which is a very uncommon blade shape for Spyderco. I absolutely love the simple lines and minimalistic look of this knife. I am very excited to share this somewhat unique Spyderco knife with you today.
Purpose
Being a limited edition knife, I get the feeling that most (myself included) will simply collect it. For many that will be the primary purpose. This is almost sad because what we have here is simply a wicked tactical folder. If you can bring yourself to use it, I see the Lum Tanto providing a ton of utility for it's owner as an emergency defensive item. I'll be reviewing the blade from a both a collectable and tactical knife perspective.
General Dimensions and Blade Details
The Lum has a 3-7/8″ blade, an overall length of 8-3/4″ and a weight of 4.3 ounces. It's a large and very solid folding knife. This knife was made in Seki City Japan and has many of the details that I love from Spyerco's Japanese knives.
The blade is on the Tanto is very impressive, made of an ultra thick piece of VG-10 steel. The blade is 1/8″ of an inch thick and due to the tanto shape, it holds this thickness for most of the blade's length. Of course by now you know it has a tanto shaped blade, but what we have here is a more traditional, slightly curved tanto rather than the boxier American tanto. The blade is hollow ground about half way up and is given a combo grind. The knife starts out with a traditional V-grind that transitions into a convex grind once you get to the tip further enhancing strength and piercing power. Out of the box this knife was incredibly sharp. I love the grinds on this knife, it's a beautiful polished blade that appears to glow under the light.
VG-10 is of course a Japanese steel. It is a hard steel that is among my favorites because it takes an awesome edge.
Handle, Ergonomics and Pocket Clip
The gray G10 handle sets this knife apart. Spyderco previously released an all black version of the knife (in another Sprint run) which was very cool. The gray version is equally impressive (if not greater – I love the uncoated steel, this blade is too pretty to coat in my opinion). Unfortunately, the gray G10 gets dirty very easily. If I used this knife regularly, I would complain, but as a collectable I can set that gripe aside and appreciate that Spyderco wanted to make this knife unique. The handle has full stainless steel liners, and on the non-locking side they have been milled out to reduce weight.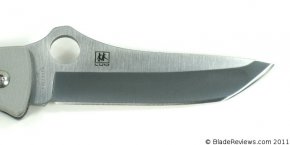 The ergonomics on the Lum Tanto are good, mainly because we have such a large handle here. I have ample room for my 5 fat fingers and if I set my hand back on the blade I've got an extra inch of reach. Alternatively, you can choke up and make use of the large thumb ramp. There is no jimping, but the big thumb ramp makes it almost unnecessary (especially as a collector's piece). Finally, the gray G10 is among the grippiest I have ever felt. The level of traction puts my Military to shame and almost feels like shark skin – my fingers just lock in place. It's wonderful stuff.
The pocket clip is a pretty standard Spyderco clip. It's mounted for right hand tip up carry only. It's been placed near the center of the handle and isn't designed for particularly deep carry. I feel like this knife wasn't really designed with carry in mind. To be perfectly honest, I'm kind of glad Spyderco didn't drill extra holes all over the knife, instead deciding to go with a cleaner look.
Deployment and Lockup
Being a Spyderco, naturally this knife has a thumb hole for deployment. The Lum Tanto uses a 12mm Spyderhole which is adequately sized and easily accessible on both sides of the knife. This knife uses white teflon washers rather than phosphor bronze washers. What this does is make for incredibly smooth deployment. It's difficult to describe so let me say it's "very very" smooth. As for speed of deployment, this is not a knife I flick open, the heavy blade makes that difficult.
The Lum Tanto makes use of a solid liner lock. There is no play at all when this thing is engaged and lockup is nice and early. This is a nice sturdy lock that rounds out a very nice knife.
Bob Lum Tanto – Final Thoughts
Well, what is there to say? Really I'm sure anyone interested in this knife didn't need to read my review to figure out that this thing is awesome (but I hope you enjoyed the pictures).
I fell in love with this knife at first sight. All in all, I am very happy with it. My blade is slightly off-center. Not a deal breaker, but for a knife with a $250 MSRP I have to mention that. In conclusion, this is just a sweet collectable and potentially a very effective tactical knife. I love the overall aesthetics, the ridiculously thick blade, the grippy G10 and solid construction. If you can get your hands on a Lum Tanto, I totally recommend it.
Share this article
Related Posts