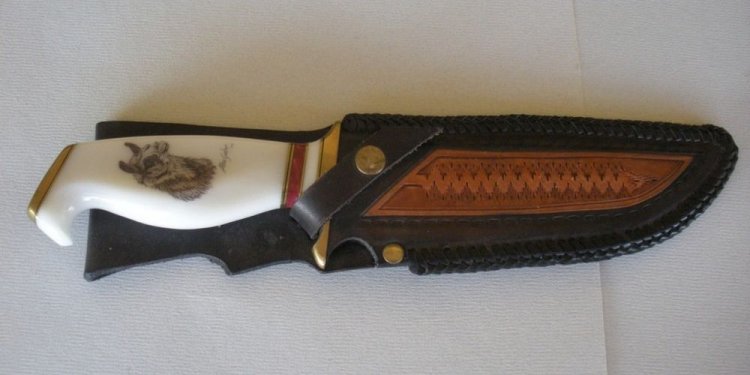 Gerber custom Knives
Just got mine in. MOLLE mount is good and horizontal mount is good also. The vertical mount needs work. I suggest a leg strap. Either a strap through the slots in the sheath or para cord through the bottom rivet holes. The hilt is ample and the blade, as always with Gerber, is great.
Very nice quality blade. The reason for 3 stars is the poor design of the sheath. When hanging from a belt loop it flops around and sticks out. You can't even effectively pull the knife out with pulling and twisting the entire sheath up. I took the knife to a local shoe repair guy that i know and we sat down and completed redesigned the sheath. When I get it back I will post an update. Were using the same sturdy nylon, but it will be 100 times better than this thIng.
I purchased this blade to replace my LMF-II, as she was simply too heavy. The blade is excellent! Feels good in the hand, light, handles well, and is quite robust. I have subsequently purchased two more and they are my go to knife.
Well done Gerber. Simple, stout, fine edge blade that feels good in the hand with a good sheath is a recipe for success.
I wanted a rugged, do-all knife and I think I have found it. Good job!
The tricked-out sheath is probably great for strapping onto something else, but if you just hang it from a leather belt, it makes me feel like it might come loose and fall off.
My water mischief blade lightweight accessible!!! Best ever next to the lmf2 but its a lot heavier.
Came very sharp out of the box. Love the sheath and the different options it allows. Couldn't be happier. A great knife for camping/hiking to tactical to everyday tasks. Everyone should have one in there kit.
Only problem I've had so far, got the sheath cold (it was -10° out) and hooked it on the seatbely in my truck and ripped the sheath attach plastic pieces off the sheath. Wore it for less than a week and totalled the sheath. Great knife overall! Sheath material seems to be lacking.
seems well balanced and fits well on a plate carrier. i just wish i could get extra sheaths to mount it in various locations.
I just picked this up and it is awesome!
Sharp out of the box, great traction, not gonna slip up and cut yourself.
One of the few knives that could slice paper out of the box. There is no such thing as the perfect knife, but this has become one of my favorite fixed blades.
Great knife out of the box for general outdoor use. Handle work well in wet conditions and the sheath is very versatile. Not sure how the sheath material will hold up in harsh weather or a good drop. It looks too brittle. On the plus side, the sheath works well on my belt and pack. Incredibly versatile.
I like the sheath for the most part. One of very few knives that cleanly slices paper out of the box. The grip is very sticky. The only thing I hated was the packaging, needed a knife or medic shears to open lol.
This knife has impressed me. This is the first Gerber I have purchased, on purpose, in almost 20 years. I like that you are finally offering this type of knife in a fine edge, one of the things that kept me from buying an LMF or Prodigy.
The sheath is very nice for a factory piece. This may be the first knife I don't get a custom kydex sheath for.
This knife is doing its job in the Australian bush. Solid knife. Love the blade, love the sheath.
I absolutely love this knife except for one problem I just noticed. My blade is bent, it hooks to the right near the tip. You can see it looking down the spine. Sending it in for warranty.will change to 5 star when I get a straight one back
knife seems good
the worst idea of a sheath i have ever seen. probably will send the whole thing back unless i can come up with something else. TERRIBLE
Sheath designers must be morons.
This knife is awesome! Great job Gerber! I love the options between fine edge, or serration.
Possibly making an OD handle for this one?
It's really awesome knife but I'm living in Turkey and i think i will have it lots of month after its so awful for me please Gerber send it to Turkey...
Just got it and it rocks! It is a solid blade. Gerber has been very helpful in answering all of my questions about it. This is now one of my favorite knives!
You finally did it, Gerber! I've wanted a fine-edged Prodigy for years and this Strongarm fills the slot. Comfy in the hand, decent sheath and cuts like a laser! I bought 1 and have three more on the way! Thank you.
This knife is one heck of a knife! I bought me one of these when It first came out. The knife
Share this article
Related Posts