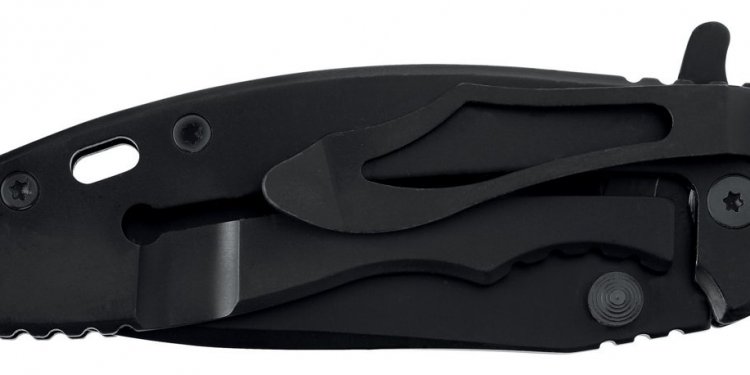 Gerber Folding Tanto
I love this knife!! between this and the mid tanto they are both great. light weight, opens easy and last forever. blade stays sharp.
Overall the pocketknife shown and I own is more than what im looking for in a 30 dollar blade wicked knife truly is the best folder for your loot.
This knife is absolute garbage, its difficult to believe the made in America trademark when the knife malfunctions after the first time opening it, permanently locked into place and had to use a pair of vice grips to close the locking mechanism. Spend your money elsewhere.
After a lifetime of owning Gerber knives and multi tools I think I finally found a lemon of a design considering I've had to return this knife on a warranty (coming up on) three times. The first one came apart at the screw that held everything together. The first replacement arrived and the blade would hyper extend causing the liner lock to jam on the far side of the knife (making it return number two). Knife number three came with the screw/threaded barrel cockeyed and the same issue with the liner lock. This one will be going back asap and will either be replaced by a different model or will be asking for a refund. Mighty disappointed with the design, although I must admit the customer service reps are always helpful on the phone.
Nice and light, feels good in hand.
I took off the pocket clip but had some trouble doing so and damage the knifea bit because the screws used to put it on stripped when iI tried to turn them, so I had to use pliers instead.
Over all okay knife, but not worth what I paid $30.
Have had it, use, and carry it everyday. Pocket clip should be reversible, it's not. Extremely hard steel to sharpen. flipper is useful however junk gets caught in thumb stud which is hard to clean .Very durable. This replaced a much older Gerber that was stolen.
This knife was OK when I first used it. It was hard to open until i started using it more. It not is so loose it rattles and will not close without dulling the blade. the steel does not stay sharp very long either. I've had to return one to the store for a replacement and now have to return my second because the liner lock no longer locks the blade...Very Unsafe! I will most likely no be buying anymore Gerber Knives since they dont prove to be a very tough brand.
Knife was good at first but after a couple weeks of use it became loose at the bolt. This would cause the knife to move left and right and sometimes lock when I tried to put the knife away. Waste of money.
I've had this knife for close to three months now and it hasn't exactly met my expectations. the frame lock began to jam within the first month when it broke out of that habit it went well for the next two months and today it finally bit the bullet and craped out on me. its not the best knife but if your looking for a light duty knife it will do but anything more than that and it'll break eventually.
great knife but why you don't shipping to Turkey?
The Evo large tanto feels good in the hand, has a tanto blade for piercing, and is ballenced very well. This is one of my best choice folders. I like the setup of the flipper and the studs, they work very well. This is my most preferd knives when i am playing paintball. Being a paintball player i need a knife to open up paint cases, cut peices of clothing sometimes, and even as a tool for my guns rarely . This knife was my pick, and it was a great one.
Comes razor sharp, solid firm feel, only thing is it was a bit thiner than I expected but other than that it is an all around good everyday knife.
This knife is one awesome tool for any task. I like to have an edc knife for edc just wherever I am wherever I go. But then when I am out somewhere in the woods hiking, backpacking, hunting or paintballing, I want a heavy duty folder that will take all use and abuse that I put on it and preform well after that as well. I also like 2 be able to have it out in a flash. This knife is great for my EDC carry and also very extensive use. It's awesome. I give it 5 stars.
Share this article
Related Posts