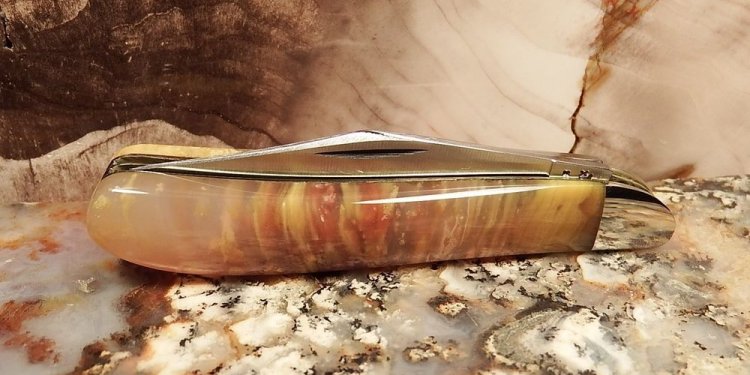 Spyderco Persistence custom scales
Description
SP173GP: C173GP Hungarian Folder
Spyderco
Spyderco's ethnic series has amazed a lot of us through the last several years. They have taken designs – some ancient – and modernized them in their own inimitable fashion, into modern Spyderco models. Included among them are the Jot Singh Khalsa, Bob Lum Chinese Models, the Ed Schempp Navaja, and the Nilakka Folding Puukko among others. This model, however, is really exceptional. The eastern European flavor is reflected in the stylized handle which fits an average sized hand very well. The dual extensions on the highly polished bolster serve as a thumb rest on top and a guard on the inside of the handle. The materials seem really well thought out a with nicely polished and well formed G10 handle along with a top quality steel blade that is what Spyderco calls a full flat grind- meaning flat from the top of the blade to the top of the final bevel that goes to the cutting edge. Although all parts of the handle, bolster and pocket clip are highly polished, the blade is left with a satin finish. This is a great knife, made in Taiwan and presented at Spyderco's high level of quality. Collector's will want to have one of these so that, in years to come, they will be able to take this out and amaze others. The liner lock works very well and is buried just enough to avoid accidental release. These swing open easily, lock securely and close conveniently. We see this latest entry from Spyderco Knives as a real winner, even though the price is not low. You get what you pay for- at least in this case, and in our opinion.
Here is more information from Spyderco Knives:
Spyderco's Ethnic Series was developed to pay homage to the distinctive knives associated with many of the world's cultures. In addition to recognizing the pivotal roles that these knives have played as both tools and symbols, this unique series also challenged us to adapt traditional knife patterns to modern utilitarian needs and express them with state-of-the-art materials and production methods.
Inspired by Spyderco's groundbreaking work in this area of knife design, Hungarian architect Gabór Szakonyi believed that Hungary's centuries-old traditional pocketknife design would be a worthy addition to the Ethnic Series. Known as the "fejesgörbe" ("header curved"), Hungary's classic cultural knife is a utilitarian slipjoint folder with a gracefully curved handle and a gently flared front bolster. Reflecting the spirit of Hungary's proud history of traditional folk art, its sleek lines combine form and function into an extremely useful tool that also boasts tremendous character and pride of ownership.
Combining his lifelong passion as a knife enthusiast and collector with his skills as an architectural designer, Szakonyi drafted the original design for the Hungarian on paper before having it translated into steel by a custom knifemaker. He then presented his idea and the handmade prototype of the design to Spyderco's founder Sal Glesser at a trade show in Germany. Impressed by the design, its unique ethnic heritage, and Szakonyi's enthusiasm, Glesser decided to pursue the project and the Spyderco Hungarian Folder was born.
The heart of the Hungarian Folder is its premium CTS® XHP blade. Its long, straight spine tapers gently to meet a sweeping, curved cutting edge that offers plenty of "belly" for slicing chores while ensuring an acute, yet durable point. The blade's full-flat grind offers superior edge geometry and friction-free cutting performance, while its trademark Spyderco Round Hole™ provides swift, positive one-handed opening with either hand.
The Hungarian Folder's handle is a study in style. Built on a foundation of full stainless steel liners, it features contoured, polished G-10 scales and sculpted stainless steel bolsters. The bolsters faithfully capture the signature "header curved" shape of the traditional ethnic design, while expressing it with unmatched precision and attention to detail.
While classic Hungarian folders feature spring-backed slipjoint mechanisms, the Spyderco Hungarian Folder offers the added security of a Walker LinerLock® to lock the blade firmly in the open position. This greatly enhances both the safety and utilitarian function of the knife without compromising its authentic appearance. A pocket clip configured for right-side, tip-up carry further updates the classic design and allows it to be more conveniently carried than a true pocketknife.
Share this article
Related Posts