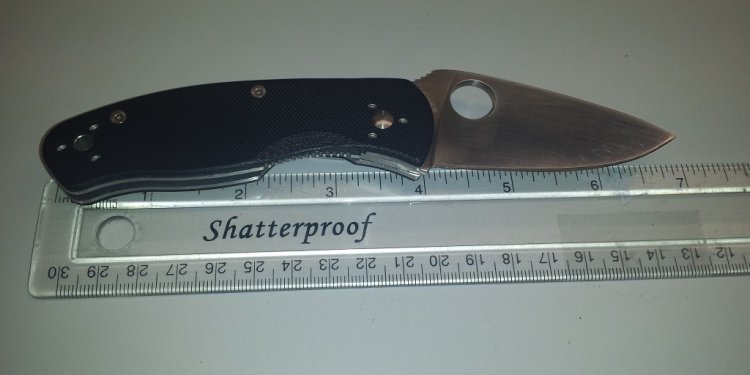 Spyderco Persistence Blue
The Spyderco Persistence brilliant Blue G10 with satin blade is a low cost entry into the regular Spyderco line. This high performance folding knife has all the right ingredients to get the job done. Easy deploying manual blade with Spyderco's traditional thumb hole, screw together construction and a quality handle material. This mid-sized folder has a handle shape that should fit most users hands. Some effort was employed to keep things light, but it has just enough weight to give a solid feel in the hand. Built with high quality materials and with good fit and finish, it's moderate size can be carried every day without issue.
The Blade: Blade is machine satin finished for a clean sheen and flat ground for super slicing ability. Made of stainless steel for easy maintenance and can be sharpened with little effort. The blade rises above the handle when deployed and makes a natural thumb ramp with aggressive jimping.
The Handle: Open construction design has spacers separating the stainless steel liners for easy cleaning and maintenance. Textured Peel-Ply Blue G10 has reasonable traction and attaches to the liners with Torx screws. To keep the knife light for it's size, material was removed from the liners for additional weight reduction. A relief has been cut in the handle for access to a jimped liner lock for added tactile feel and slip resistance. Included pocket clip with polish finish that and can be attached four ways: tip up or down left or right carry.
Peel-Ply G10 is a type of G10 that uses a throw away sheet of plastic that has a texture that gets imprinted in the G10 during the curing process. Once cured the top layer is peeled away to reveal a uniform textured surface.
Share this article
Related Posts