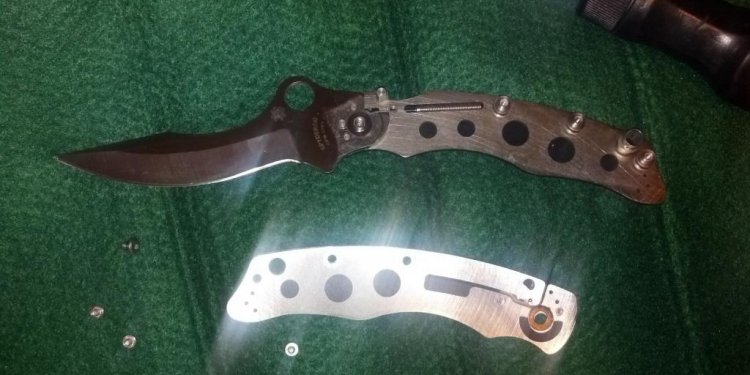 Best Spyderco Knives
A pocket knife is something that can fit into your pocket without taking too much space or weighing too much.
It can come in handy anytime, especially if you are outdoors – like hunting, camping or even your regular trips.
It can have a single blade or multiple blades and they can all be folded into the handle and locked up securely, so that they don't open up accidentally.
The knife has to sturdy and long lasting as you don't want it to snap off when you are trying to cut that rope on your camping trip.
Spyderco Gayle Bradley Folder Carbon Fiber Plain Edge Knife
Spyderco, known for it's out of the ordinary designs and innovative technology, have been manufacturing knives with a number of features. These knives are widely preferred due to their unique design and attractive features.
Gayle Bradley and Spyderco have come together to come up with pocket knives that are unique, well designs, sturdy and durable. These knives have been constructed, taking a number of aspects into consideration.
The C134F is a typical Gayle Bradley knife and is loaded with features. Users have even termed this knife as a classic and a must have if you have use for a pocket knife. Let's take a detailed look into this pocket knife.
The knife sports a number of features that make it a favourite amongst many pocket knife users. Here are some of the features that make it a widely preferred knife:
Resistant Blade – The blade in the C134F is hollow ground and is made of crucible M4steel CPM, with a satin finish. M4 blades are known for their toughness and durable life. The crucible version of the M4 blade is a superfine and consistent steel grain structure which lends the knife a stable and clean edge. Though it is not made out of stainless steel like most of the other pocket knives, the high carbon tool makes it more resistant to any impact.
Shape Of The Blade – Known for his differently shaped knives, Gayle Bradley has lent this piece of art a different shape too. The drop point shape with an approximately 3 inches cutting edge, this knife is good enough to serve your needs you may have for a pocket knife. This shape makes it easy to manoeuvre and pay attention to details.
Handle – Made of Twill carbon fiber, the handle also features scales with G-10 laminate finish. This finish lends the knife a brilliant finish and makes it very sophisticated and gentlemanly appearance. Now carrying this knife is not only easy but you can use it and look stylish and be handy. The handle also has two full length liners running on the inside of the handle, this making it more sturdy and rigid.
Versatile Clip – When you carry a pocket knife, you may most probably want to secure it to your pocket or elsewhere, so that it does not get lost. This knife from Spyderco features a clip that can be used four ways. You can turn it around and attach the knife to your pocket in any direction of your choice.
Easy Cleaning – The blade and the handle are screwed together, rather than be welded like many pocket knives today. Now you can unscrew the handle and take the blade out separately, to get it effectively cleaned. When you use your knife to de-skin or to cut any vegetables, the knife is sure to have some residue around its blade.
Compact – The knife measures 8.07 inches when open and just 4.68 inches when closed. This can fit into any average pocket or purse and can be carried around very easily. No bulges or need to carry a bigger bag, just to accommodate this handy tool.
Negative Points
Heavy – This pocket knife weighs 5.2 ounce. Though is much lesser than you regular knife or even the safety pepper spray, it is heavier than many of its counterparts which weigh as little as 1 ounce. The lighter the knife, the more preference it gets, as the user has to carry it on him always.
Not Stainless Steel – Stainless steel is predominantly used to make the blades of knives these days, as they are durable, rust free and easy to maintain. This C134 however uses carbon tool, which may not convince some of the pocket knives' fans. Stainless steel is appealing to look at, been used for making blades for decades and thus is believed to be the best for a knife. Not everyone will be willing to invest in a blade that is made of different material.
Not Coated – In addition to not being stainless steel, this knife does not have any coating either, to protect it from salt water, sweat, blood or any other residue, which when left unclean can damage the blade. No matter how well you take care of your knife, you may have to just fold it up and put it in your pocket until you find enough time to clean it. This makes it high maintenance.
Lacks Lock Release Cut-out – There is no easy thumb stud carved out for you to open the knife using a single hand as you are using it. This makes it inconvenient to use and the users have complained about the lock release being rough on their hands while opening.
Out Of Production – No matter how many advantages or great features a knife has, it should be in production for us to buy and experience it. The Spyderco Gayle Bradley is out of production as it has been upgraded to the next version with different features. For those who love the features offered by this original piece of art, you will have to switch to a different knife or hunt for this knife, in case it is time for a replacement.
Advantages Over Competition
Here are some of the advantages this pocket knife has to offer to its users, when compared to the other such knives in the market.
Full Liners – The blade handle has full liners running on either side of the handle. This lends more strength and makes the knife sturdier. This also reduces the weight of the knife, thus making it lighter for you to carry around in your pocket. Now even when you end up using if for doing something tough like cut some meat or cut through a thick canvas rope, you don't have to worry about the blade coming apart from the knife handle.
User Friendly – The handle/ grip is neither forward nor rearward but is very convenient to hold as you can hold it in anyway comfortable for you. The choil present for your forward finger lends good leverage when you are cutting through things and ensures you don't lose grip over the knife nor does the material slip away from underneath the knife.
Easy To Cut – The Spyderco Gayle Bradley has a hollow ground blade that slices through most of the things with utmost ease. Be it plastics, cardboard, nylon, ropes or any other material you are bound to use a pocket knife on, this knife can make your job so much more easier. When you are done with the first cut and try to turn it around, this knife does not hang on to the material and make it difficult to manoeuvre like many other pocket knives.
Smart Handle – The scales and the carbon finish on the handle lends it a unique and classy look. Unlike a regular pocket knife, this knife is bound to add to your style quotient. The Spyderco Gayle Bradley believes is well deigned to prove that just because it a pocket knife that is not going to be on display much, utility and quality are not the only factors to be considered.
Conclusion
Pocket knives are meant to be pocket friendly, both price wise as well as size wise. When you spend on a pocket knife, the knife should last long, suit your needs and withstand different kinds of uses.
The Spyderco Gayle Bradley is one such pocket knife, which has a number of features for the price you pay. It is light, compact and convenient to use.
This is one of the top rated and preferred pocket knives by users. However, this great knife is out of production as it has been replaced by the next version of the same knife with added features.
Share this article
Related Posts