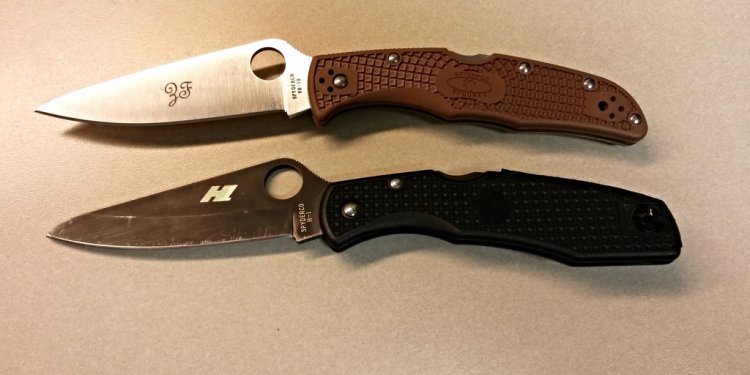 Best Spyderco for EDC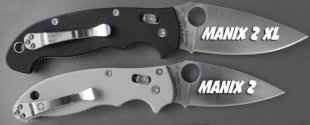 Key Specs
Blade length: 3.375 inches (3.85″ for XL)
Overall length: 8.00 inches (8.94″ for XL)
Closed length: 4.625 inches (5.09″ for XL)
Weight: 5.0 ounces (5.2oz for XL)
Blade material: S30V stainless steel
Locking mechanism: Ball Lock
Country of origin: USA
Price range: About $100
Variants
You'll find a number of variations on the popular Manix 2. Here are some of the options available:
a black DLC finished blade
a plain, partially serrated or fully serrated blade
S30V, S90V, S110V, Carpenter CTS-BD30P, CTS-BD1, CTS-XHP blade steel
G-10, Edgetek FRCP (fiberglass reinforced co-polymer) handle
a multitude of handle colors
You'll find many of these variants available in the form of "sprint runs, " limited edition production runs of the Manix 2 using the different steels and coatings. One example is Spyderco's Manix 2 Lightweight version which has the same overall design, but with Carpenter's CTS BD1 steel and fiberglass reinforced co-polymer handle scales. Note some of these variants are harder to find than others.
In addition to the standard size, the Manix 2 comes in an oversized "XL" version with a blade just under four inches long. The version I'm reviewing here is the standard model with S30V and G-10 handle.
Our impressions
First thing that struck me with the Spyderco Manix 2 is just how sturdy this knife is, but it comes at a price and that price is 5 ounces in weight in the standard version. Now, you may be thinking that 5oz isn't much but when you compare to the Paramilitary 2 at 3.75oz, the Kershaw Blur at 4.2oz and the Benchmade 940 Osborne at a featherweight 2.9oz then it's noticeable. That said, I'd put it within my tolerance of acceptable weight for every day carry, especially since the knife is so well made with excellent ergonomics. Now, while this isn't the lightest EDC knife on the market it certainly is one of the toughest.
The knife's overall length open is 8" (4.625" closed), and the blade is 3.375" long. It's about the same size as the Tenacious and a bit smaller than the Paramilitary 2. It feels really good in the hand, I mean really good. The Paramilitary 2 is a joy to behold but this thing hugs your hand and feels like an extension of your fist.
As I mentioned earlier, the blade of the Manix 2 is made Crucible CPM S30V, full flat ground with aggressive jimping and a distinctive 14mm Spyderco Round Hole for quick deployment. You may notice pictures of the Manix 2 with a sabre grind but this was discontinued (thankfully) with the 154CM version.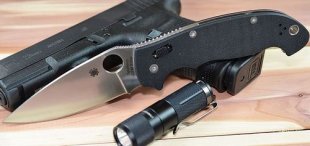 Crucible CPM S30V steel, developed by Dick Barber of Crucible Materials Corporation and knifemaker Chris Reeve is extremely resistant to wear and corrosion. The steel has evenly distributed vanadium carbides, which makes for a harder blade that cuts more effectively than blades made with chromium carbides. This gives the steel a very refined grain that results in superb performance.
Buck Knives refers to S30V as "the absolute best blade steel available." Well, we all know there are better steels out there but I continue to assert that S30V steel is an outstanding choice for EDC knives and represents the sweet spot of price/performance in the upper end market. Sharpening takes a little more effort than the lesser steels but with the noteworthy edge retention you won't need to sharpen all that often. I was able to reprofile the blade and it took a polish pretty well.
The full flat grind blade on the Manix 2 will work nicely for slicing and dicing almost anything you want, and the edge will hold its sharpness even long after general abuse in the field. When I took my Manix 2 out of the box, it immediately passed my razor test, neatly shaving the hair off the underside of my arm. I expect nothing less from Spyderco's blades these days.
You'll instantly recognize the leaf-shape which is common on several other Spyderco knives. Note the tip is somewhat thin and you need to be careful prying things open with it for risk of breaking.
Spyderco's trademark "spyder hole" thumbhole is ever present, making this knife a breeze to deploy one-handed. Again, the blade held its edge for weeks of heavy usage, which speaks volumes for both the quality of the grind and the quality of the steel.
The locking system on the Manix 2 is somewhat unique, referred to as a "ball lock." It operates with a spring-loaded ball bearing "caged" in polymer resin holding the blade firmly in place. It can be a mouthful to explain how it works but trust me when I say it's solid as a rock. In fact, it reminds me very much of the trusted Benchmade Axis lock in design and concept. Zero blade play here.
You can unlock the knife without placing your fingers in the way of the blade, which is a bonus for single-handed use. The only downside to this locking mechanism is the strength of the spring—I barely have the strength to disengage the lock one-handed, so make sure you test it out for yourself if you must have full one-handed operation. You can't really blame Spyderco for this as they have intentionally made it stiff to prevent locking failures. After the locking mechanism had some break-in time, it did get easier, but this could still be a concern to some of you.
The handle on my Manix 2 was G10 scales accompanied by stainless steel liners. A pretty common combination these days with pocket knives in this class. The scales feature nice texture in a plain matte black finish. I'd say the texturing on the G10 is medium to course but not aggressively textured. It gives the knife an excellent grip and tactile feeling when you're using it.
Note the liners on the standard model are not skeletonized which adds strength but at the expense of additional weight. At the same time, solid liners mean less debris and gunk are likely to accumulate which requires extra cleaning.
Share this article
Related Posts