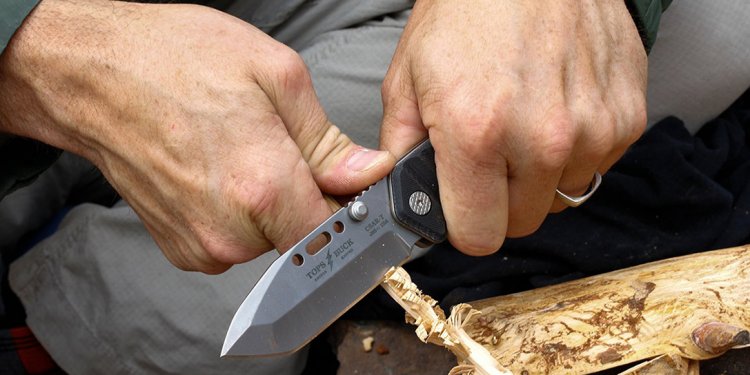 Best Pocket Knife Company
I'm often asked for my opinion on the best knife brand. Of course, it's near impossible to single out one brand but what I can do is share some of the more popular 'mainstream' knife brands that I've enjoyed over the years.
These are my "go-to" brands, especially when it comes to EDC knives.
Benchmade
First up is Benchmade. The Benchmade brand is highly respected, and has been since 1988 when they first set up shop in California. Based in Oregon since 1990, they are the patent-holders of the famed AXIS locking mechanism.
Whether you're using the traditional AXIS without spring-assist or the AXIS-Assist with a spring to assist in rapid deployment, the lock-up is one of the most solid I've seen and is both safe and easy to use. Benchmade prides itself on using quality steel for their knives, and produce fantastic designs for EDC knives that will stand the test of time.
Benchmade knives run the gamut from budget-conscious to not-so-budget conscious. For the budget-conscious, the Griptilian and Mini Griptilian make excellent choices, with nicely scaled handles and 154CM stainless steel blades. If your budget is a bit more, the 940-1 Osborne is the quintessential lightweight EDC knife in my book, and is one of the finest knives Benchmade has ever produced.
Kershaw
Kershaw Knives is an excellent knife making company that has been around since 1974, when Pete Kershaw left Gerber to form his own cutlery company based on his own designs. His early manufacturing was handled in Japan, but since Kershaw became a wholly owned subsidiary of the KAI Group, most manufacturing has been handled in the Kai USA factories in Tualatin, Oregon, with a few products being manufactured in Kai's Japanese and Chinese factories.
The Kershaw lineup is made up primarily of pocket knives and sporting knives, and is known for its use of high quality steel and other materials. Some of the most popular Kershaw knives are the Kershaw Leek, the Blur, and the Shallot.
For EDC use, I love the Kershaw Blur, designed by Hall of Fame knife maker Ken Onion, and find it to be extremely well made. The blade of the Blur is 14C28N steel, a mid-range steel but it's also available in more premium steels if you pay a little more. It's a well-made knife that will last for years under even the toughest of conditions. A similar priced option is the Kershaw Knockout is still an excellent EDC choice, with a blade also made of 14C28N stainless steel and lightweight aluminum handles.
Spyderco
Spyderco is based in Golden, Colorado, and has pioneered many features that have become commonplace in EDC knives, including the pocket clip and serrations, as well as the well-known "spyder hole" opening mechanism. In its design and innovation efforts, Spyderco has collaborated with athletes, self-defense instructors, and custom knife makers to develop the usage of 20 different blade materials.
Share this article
Related Posts