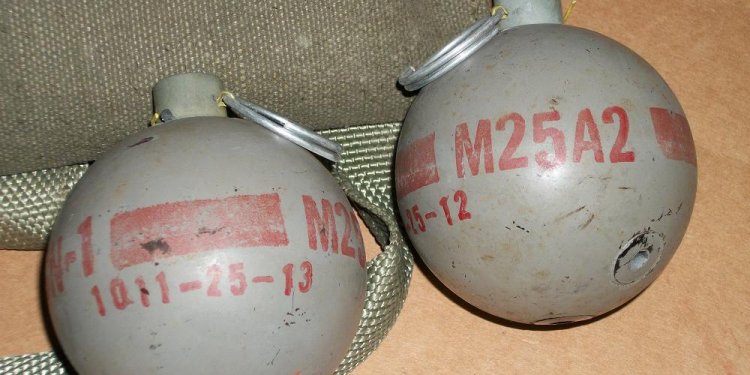 Military items
Military surplus items or other military-related items that you can find in both online and retail stores, such as military-related backpacks, blankets, canteens, clothing, foot lockers, hats, helmets, non-restricted instruments and tools, and so on.
Some parts and accessories for antiquated military vehicles or equipment that don't have explosive capabilities.
Replica military ordnance that was never actual ordnance, such as a replica firearm or explosive.
Restricted

The import and export of certain items and information is strictly regulated by US federal law and regulations. 'Military items', as described within this policy, include those which are specifically or otherwise identified on the U.S. Munitions List (USML) found in Part 121 of the ITAR.

Selling

Before listing any military items on eBay, check the USML to see if your item is covered by Part 121.

Some military items (such as body armor, firearm scopes, head gear, and night vision goggles) listed in the ITAR Part 121 are OK to sell, but only if all of the following conditions are met:

The item is listed on the US eBay website (eBay.com).
The buyer, the seller, and the item are located in the US
The seller specifically states the item will only be shipped domestically (within the US) and
The buyer certifies that they are a US citizen or permanent resident

Buying

In order to comply with US export trade laws and regulations, you must be a US citizen or permanent resident of the US to bid on or buy these types of military items. These items can only be bid on or bought if the buyer intends to use the item for personal use only and has no intention of exporting the item outside of the US.

You can list these items under certain conditions:

Meals, Ready to Eat (MREs) that don't include a heating device, have a clearly marked expiration date, must be delivered to the buyer before they expire. For more information, see our food and healthcare items policy.
Level I, II, or III body armor or Small Arms Protection Insert (SAPI) plates, as long as you indicate the specific level in your listing. Find out more about our requirements to list body armor in the below.

Not allowed

Military ordnance such as weapons, ammunition, and their related parts—even if the items are considered demilitarized, demilled, rendered inert, or unserviceable. We can't confirm whether an item has been changed in such a way that makes it safe and legal to sell or transport.
Most military vehicles, including aircraft and ships, and the parts or accessories for these vehicles
Grenades such as metal military practice grenades, rifle grenades, propelled grenades, dummy grenades, inert grenades (including relics, curios, memorabilia, novelty, or display items), grenade launchers, grenade launcher attachments, and mines. See our firearms, weapons, and knives policy.
The following types of body armor:

Level IV body armor or Small Arms Protective Insert (SAPI) plates

SAPI plates that don't clearly state their respective level (I, II, or III)
Military-issued body armor or body armor stamped with "US, " including Outer Tactical Vests (OTV) or SAPI plates
Interceptor Body Armor (IBA), including items manufactured by Point Blank (PBI), Second Chance (SCI), and Armor Holding
Interceptor OTV with or without plates
Detachable groin armor (cod pieces) and neck armor

Military police uniforms or any part of the uniform (such as badges, patches, armbands, and so on) that designates someone as a police officer from any branch of the US military. See our police-related items policy.
Defense articles and dual-use items
The US government makes a distinction between "defense articles" that are specifically developed, configured, or adapted for military applications and "dual-use" items that have both military and civilian applications. Defense articles are regulated for export by the US Department of State's Directorate of Defense Trade Controls while dual-use items are regulated for export by the US Department of Commerce.
In general, items not regulated by the ITAR are regulated under the Department of Commerce's Export Administration Regulations (EAR). While they may be sold on eBay, certain categories of items require export licenses depending on the ultimate country of destination because of their potential nuclear, missile, and defense/security applications. Examples of such dual-use items are high precision machine tools and vibration tables, generation 1 night vision, civilian riflescopes/weapon sights and electronics, such as radar, accelerometers, and gyroscopes. You can visit the Commerce Control List and Country Chart to find out if an export license is required.
The law covering the sale of military items
We work closely with federal and military agencies to make sure transactions for military items on eBay follow all laws, regulations, and statutes, including:
Before listing military items on eBay, please review the information in the International Trade in Arms Regulations (ITAR) Part 121. This regulation restricts the import and export of certain military items and information. Along with other requirements and restrictions, ITAR requires sellers of items and information included in Part 121 who want to ship those items outside of the US to get a special license from the US Department of State.
Because we can't determine whether a seller has this license,
sellers can only sell items to US citizens who currently live in the US.
You'll need to specify domestic shipping in your listing, and make sure you and your buyer follow all applicable laws and regulations, as well as eBay policies.
Items and information covered by ITAR Part 121 that are otherwise allowed on eBay can only be listed on the US eBay site (eBay.com) by sellers registered in the US offering domestic (within the US) shipping only. ITAR Part 121 items can't be listed on other eBay sites under any circumstances.
eBay's policy for listing body armor
Generally, body armor that isn't issued by the military can be listed on eBay. However, because of various laws and regulations, if the body armor you're listing has been certified using the performance standard of the National Institute of Justice (NIJ), then you must include the following information in your description:
The threat level rating of the armor (I, II, IIa, III, IIIa)
Information about the manufacturer
The listing must have a clear picture of the armor that verifies the above information, including a picture of the certification tag, and it must also include the following disclaimer, word for word, within the description:
** This model complies with NIJ Standard-0101.06 for Ballistic Resistance of Body Armor. **
We recommend copying and pasting this disclaimer into your item description. Be sure to use the same font size as the rest of your description.
Why does eBay have this policy?
Because the sale of many military items is either prohibited or highly regulated by the government, there are certain items that can't be listed on eBay and others that can only be listed for domestic sale (within the US) only. This policy is in place to make sure everyone is informed about the restrictions before listing any military items on our site.
Contact Customer Service
Share this article
Related Posts