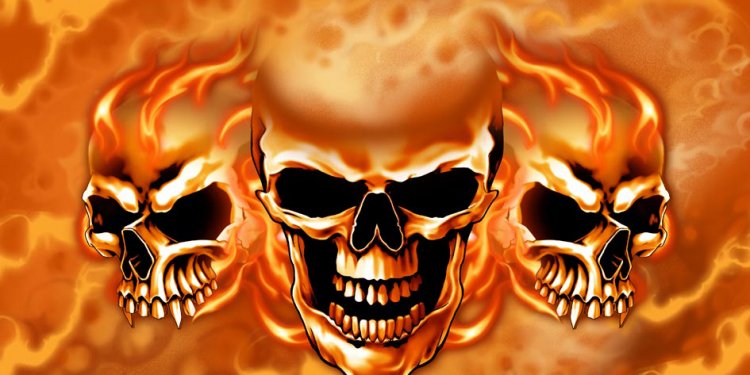 Types of Knives for fighting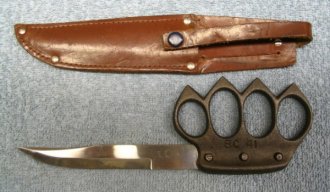 A combat knife (also called a fighting knife, or a tactical knife) is a knife specifically designed for military personal. Since the end of trench warfare, however, the majority of military knives are now designed for multiple functions (such as chopping branches, opening ammunition crates, etc.) in addition to their main purpose of close combat weapons. A dagger is a double-edged fighting knife with a central spine and edges sharpened the full length. It's a sword-like weapon with a pointed blade and a handle, used for stabbing. The distinctive double-edged sharp blades with full length cutting edges and central spine distinguish a dagger from any other general-purpose/house hold knives. Daggers are usually used by military personals. They are different from each other according to their shape, sharpness, build and purpose.
10. BC-41
The BC-41 was a combined Knuckleduster/dagger weapon used during World War II by the British commandos for close combat and in ambush situations. The BC-41 is an extremely rare fighting knife. This weapon was originally designed by Charles Clements and was made in Sheffield England.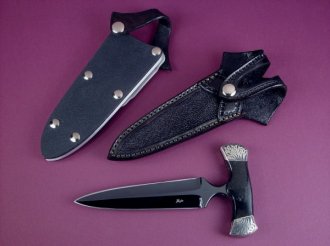 The clip point blade is strongly joined to the knuckle guard and a strong plastic material called Bakelite, grips the primary 4-1/4 inch edge of the 4-3/4 inch exposed portion of the blade when holding it conventionally. Overall the knife is measured to be 9 inches; the knuckle portion measures 4 inches at the widest point. It fits very comfortably in a smaller hand and is considered to be one of the best to date.
9. Push Dagger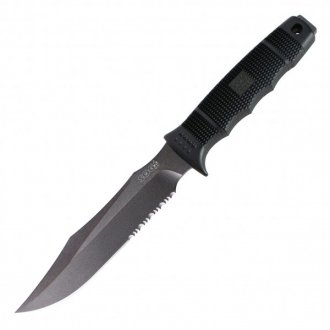 A push dagger (most commonly known as: push knife, fist knife, push dirk, or T-handled knife) is a short knife having a design similar to the letter "T". It is specifically designed to be grasped in the hand so that the blade is pointing forward, typically emerging from between the 2nd and 3rd finger. This is a different style of a fighting knife, made just for stabbing from behind rather than fighting. The blade is oriented horizontal to the ground when held. The cast on aluminium handle has a grip molded for bare hand holding, with finger recesses, and a steel rounded knuckle is designed to cover the last three fingers only. The blade is double-edged, with a flattened diamond cross-section. The total length of the push dagger is 7.25 inches (tip of the blade to back of the grip).
8. SOG Seal Knife 2000
The SOG Seal Knife 2000 is specially designed for navy seals. The SEALs are one of the top elite military forces around the globe. SEALs personal undergo one of the toughest training programs to produce a warrior. Only the select few are strong enough to endure and earn the honor to wear the SEAL trident on their uniform. That's what makes this weapon a very special one. It is 12.4 inches in length overall. It features a powder coated blade, longer ergonomic handle with deeper finger grooves, Racy new blade shape & longer cutting edge, an extended tang for glass breaking & hammering, it also includes Nylon carry sheath.
Share this article
Related Posts