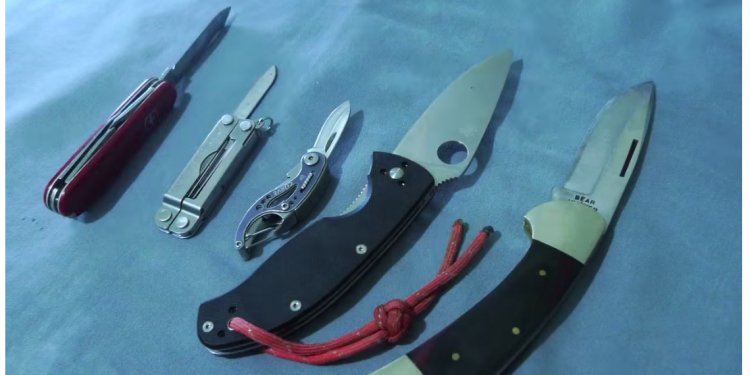 Collection of Knives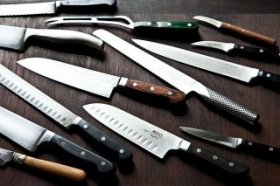 Food52's Editorial Assistant (and college student) is curating her very own first kitchen - and she needs your help.
Last time,
I'm 5' 3", I smile a lot, and I look like I'm fifteen years old.
Don't let that fool you. I've got a thing for knives.
This thing came about when I, a wide-eyed college student with no professional culinary training, got the opportunity to work as a stage at the renowned restaurant in Philadelphia. "Wear a white shirt, and come at noon, " the chef de cuisine told me. "And bring your knife."
My knife. Of course.
Until then, I had gotten by in my wall-of-appliances-in-the-living-room "kitchen" with some dull, cheap thing that was part of a $10 set. Like all other kitchenware, a real chef knife - the kind I could walk into a kitchen like Vetri and feel comfortable using - felt too advanced for me, too mature. Sawing into onions with a dull blade felt like a rite of passage. I wasn't ready, just yet, to commit.
And then, suddenly, I was.
It was time, then, for some serious research. It was time to gaze at photos of shiny blades for hours, to send my colleagues frantic emails for advice, to go from kitchen store to kitchen store and grasp the handles of the crazy-sharp specimens in my hand, power coursing through my veins, creeping out the salespeople with my crazed, lopsided grin. Chef knife or Santoku? 8-inch, or longer? A knife is a very personal preference: size, weight, length, brand, and blade all played into my final decision. After a week of furious searching, I settled on the ($64.95), a knife with a thinner blade and straighter edge than the classic chef knife.
Oh baby. I was ready.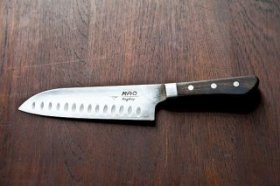 Feeling like some master Japanese samurai, brand-new houndstooth chef pants dragging on the floor, I greeted my afternoon project at Vetri - a crate of kumquats - with a smile. Damn, this thing is sharp, I thought with glee, slicing cleanly through a kumquat, and then my finger. (Note: I went through an entire box of plastic gloves that night.)
Now that I've practiced - tackling gnarly broccoli stalks and raw chickens and piles of onions in the privacy of my own apartment (filed under "Things I Should've Done Before Cutting Myself 5 Times in my First 10 Minutes in a Restaurant Kitchen") - I've realized the beauty of having a knife that's efficient, sturdy, and unforgivingly sharp. Prepping isn't a chore now. It's thrilling.
I want that feeling with all of my kitchen tasks.
While a chef knife or Santoku can handle the majority of prep work, certain, specific tasks require special knives. For slicing tomatoes, bread, sandwiches, and cake rounds, I need a serrated knife, preferably one with a blade 10-12 inches long (a shorter one can get lost in a large cake or loaf of bread). If I want a forged knife - one crafted from a metal blank heated and hammered before the shape of the knife is cut - then the ($109.95) is an option. It feels almost wrong, though, to spend more money on a serrated knife than my Santoku. A less expensive stamped option - the kind of knife that's shaped from a hunk of metal with a more advanced version of a cookie-cutter - is the for $28.
For more delicate kitchen tasks, such as hulling strawberries, coring fruit, making citrus supremes, and scraping vanilla beans, I'll need a sharp paring knife. One that's no longer than 3½ inches is key; any longer, and precision and agility are compromised. The major decision, here, is whether the expensive German brands are worth it; the and are both highly recommended, but are $39.95 and $49.99, respectively. The, on the other hand, is much less expensive; at only $7.82, it's a fraction of the fancier knives.
Yes, there are boning knives, fileting knives, cheese knives, bird's beak knives, sheep's foot knives, knives of all shapes and sizes, of metals, of designs. But this is my First Kitchen, and I want knives that I know that I will need. No matter what the knife, no matter the length or type of metal, if it's forged or stamped, whether it's French or Japanese or German or American, a knife begs to be used. It wants to cut, to slice, to chop, to dice; just like us, it wants to feel wanted. As one of the kind, patient line cooks at Vetri told me, watching me tape up my wounds for the 25th time that night, "That's happened to me, too. Don't worry. New knives just need practice."
What knives are in your collections, and which would you recommend for my First Kitchen?
As usual, I'll be pinning all of the tools I'm coveting to my, so check it out!
Email me at with your First Kitchen recommendations - your favorite tools, your favorite cookware, your favorite cookbooks. All wisdom is appreciated.
Tags: first kitchen, cookware, kitchenware, knives, chef knife, santoku, paring knife, serrated knife, products, supplies
Share this article
Related Posts