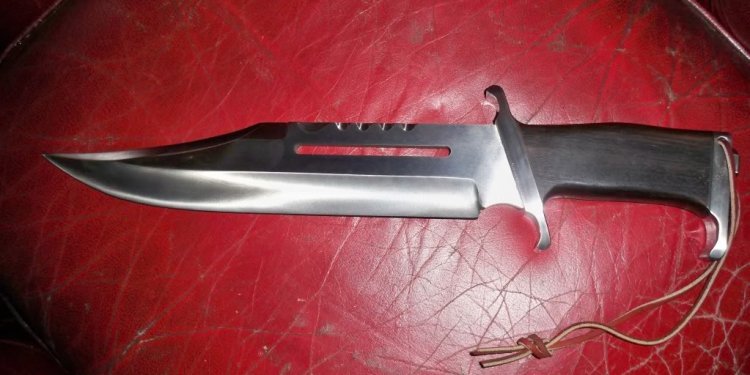 Gil Hibben Rambo Knife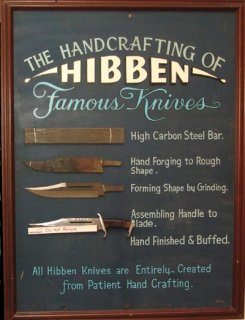 This sign once hung in Gil's knifemaking shop in Silver Dollar City, Missouri and is now displayed in Smoky Mountain Knifeworks in Sevierville, Tennessee.
Gil no longer hand forges (hammers) the steel because superior quality 440C high carbon steel is now available in bar stock from the steel mills.
Gil now makes his knives using the "stock removal" method where he starts with a pre-milled bar of annealed steel and "grinds away anything that doesn't look like a knife". He then hardens and tempers the blade through a heat treatment process.
This is the ONLY AUTHORIZED full-size handmade copy of the knife designed by Gil HIbben and made famous by Sylvester Stallone as John Rambo in the movie "Rambo III". I say full size because many of the factory reproductions are actually a smaller scale reproductions of the movie knife.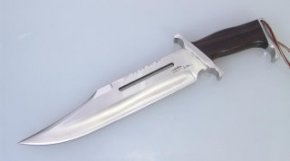 This unique knife was designed by Gil Hibben and is entirely handmade by Gil in his own shop in LaGrange, Kentucky.
For over 20 years we have used the "RAMBO" trademarks in connection with the advertising and sale of the knives featured in the movies Rambo III and Rambo. The "Rambo" trademark is currently owned by Studio Canal Image S.A. and license to certain manufacturers of licensed
"Rambo" products and thus the word "Rambo" can no longer be used on our handmade knives.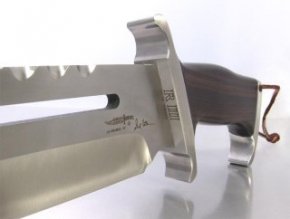 We are, and will continue to be, the ONLY source of authentic exact reproductions of the knives used by Sylvester Stallone in the movies "Rambo III" and "Rambo".
Because of the trademark dispute, we are making a new edition of 100 of these knives with a new "RIII" marking. Other than the "RIII" marking, these will be exactly the same as the discontinued previous version of the handmade, full size, screen accurate copies of the movie knife.
Each knife comes with a hand signed Certificate of Authenticity, a handcrafted brown leather sheath, and a custom padded carrying case.
Specifications:
Manufacturer: Gil Hibben / Hibben Knives
Model #: RIII
Limited Edition of 100 Handmade Knives
Overall Length: 17 1/4"
Blade Length: 11 7/8"
Blade Width: 2 1/4"
Blade Thickness: 5/16"
Blade Steel: 440C Stainless
Rockwell C Scale Hardness: 56-57
Handle Material: Makassar Ebony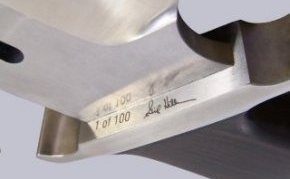 Share this article
Related Posts