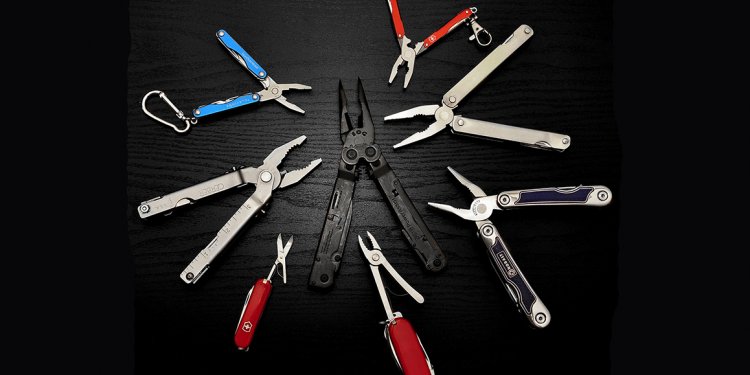 Gerber Multi Purpose Tool
I purchased this little gem a couple of months ago and have been wearing it every day for work since I bought it. I am full time on a SWAT team and have carried several different multi-tools over the last two decades. This one is excellent for me. The knife and extended bit holder are worth their weight in gold. Having the ability to use regular bits found at any hardware store is feature I have wanted for years on my other multi-tools. The knife is long enough for most jobs and holds a decent edge. The pliers are also top notch. Easily as good as my Leatherman MUT. I have a old Gerber one handed opening multi-tool like this one, that would pinch my hand every time I closed it. Which led me to retire it quickly. I was nervous this one would do the same, but it does not. Cleaned and lubed the tool when I got it, and it slides out very easy now. Was pretty dirty from the manufacturing process. The only item I wish it had was a set of scissors. Personal preference. Lastly, I purchased this through Gerber's LEO / Military program. Excellent price! For the money, you can't go wrong. It is just as good as any Leatherman or Victorinox multi-tool. In some cases...even better.
Gerber while this is an over good multi tool you should improve your QC. My multi tool came with some bad burs on the blade. I needed to fix and sharpen my brand new knife. My blade also has some bad lock sticking that I have yet to resolve. The serrated blade needs to be a little sharper too.
Not sure why you used black oxide on the file. While it does look cool I think it takes away from the functionality some. The file also doesn't have milling on the side. My file was super dirty and needed to be cleaned.
I like the pliers. Spring loaded makes them easy to work with. The jaws align very well. I think you can grab a gnats ass with them.
Screwdriver works well. I really like the smoothness of the swing out and positive lock. About time some figured out standard driver bits.
Have not used the pry tool yet. It does seem to stick up some in the handle. I think it could have been replaced by another tool like scissors.
The sheath is nice, but not made in USA. Wish you included the tool to rotate the cutting blades. I like the way the jaws sit flush when closed so it doesn't chew up the sheath. The sheath lettering is a little to much of an add. I used a black sharpie to tone it down some and it seems much nicer now.
This is hands down the best multitool I've owned. Not even comparable to my others (leatherman and an army standard issue gerber 600). I didn't realize how much the one hand operation matters, it changes everything. I'm use this daily and can't believe I was doing work without it.
After using the Center-Drive this past hunting season, I've been impressed with the facelift Gerber has brought to the age old multi tool. Tools flip out quickly and easily with just one hand and the construction is bomber.
Prior to this Gerber Center Drive I've used the Freehand and found it excellent over the last few years. I was disappointed to hear that the Freehand was discontinued but after receiving the Center Drive I'm more than happy. As a rancher and horseman I use this multi tool constantly through the day for any number of repairs and fixes. The one handed opening can be a life saver at times and now with the Center axis bit driver built in, I think I've got everything covered. Well done Gerber!
I personally love this multitool so much I've turned my moto around a mile away from my house and headed back to put it in my bag after spacing on it. Because already the one time I didn't have it... I needed it. I usually have a tool roll on my bike that has pliers, pocket knife, safety wire/zip ties, sockets, allen keys, screwdrivers etc... as I was pulling the roll off my bike the other day to make a quick exhaust mount (mine snapped) I realized I could actually take half of the things out and just throw in the Center-Drive in their stead. I used the fine edge blade to cut through two-inch metal-band-reinforced rubber hose the other day... like butter. Once this thing is in your arsenal, you'll wonder how you ever went without!
I own over 40 multi tools my favorite for long time was the Gerber mp1 because the driver was very useful in my work .I used Leatherman wave ...but this time you make the perfect tool for a hard worker like me .I think you improve a lot when you make the mp1, bullrush, mp600 snap on, and the center drive .
I've been in possession of the centerdrive for about 15 minutes and I can safely say it's the best multitool I've ever owned. The actual driver alone makes it worth every penny, since it takes all of my Irwin 1/4 inch bits which I find incredibly useful. I really like how quickly you can open the pliers, with just a quick wrist flick they fly right open and you're ready to go. Overall fantastic knife, would definitely recommend over a Leatherman.
Share this article
Related Posts