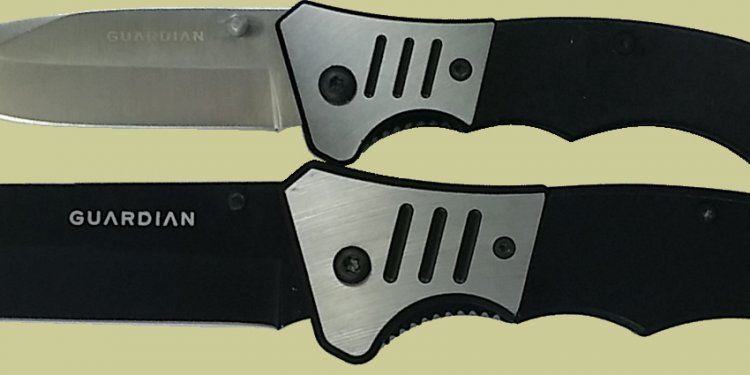 Gerber Guardian 2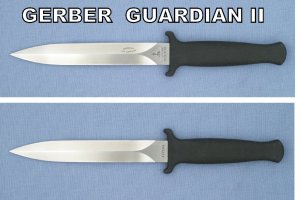 Photo: Chris Blair
The Guardian II knife is similar to the Mark II. It has a blade that is identical to a Mark II unserrated, straight-profile, stainless steel blade. The handle is different however. Instead of the Mark II's oval cross section handles the Guardian II handles have flattened sides and the pommel is flared out and rounded and lacks a wrist thong hole.
Almost all have stainless steel blades and are serialized in the same manner as the Mark II stainless knives, with an alpha-numeric serial number (e.g. A8367S). The Guardian II comes in 3 versions.
(1) The first version has a black handle and satin finished blade with a "DESIGN BY" / "R. W. LOVELESS" electro-etch. On later knives, another electro-etch, "GUARDIAN II" was added several inches from the blade tip.
(2) The second version has a black handle and blackened blade.
(3) The third version has a camouflage handle with blackened blade and camouflage sheath. In this version I have noted several tool steel bladed knives with the "T" suffix. They are serial numbers A1227T and A6113T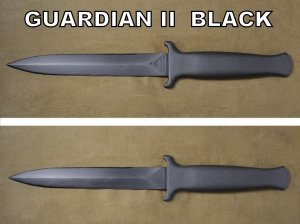 For the satin finish blade knives, the highest serial number I've noted is C3483S. The black handle, black blade models are rare and I've only noted four, A6680S, B1038S, B2140S and B7109S. For the camo handled knives, the highest serial number I've noted is D4541S. These serial number ranges imply that less than 33, 500 of the Guardian II knives were produced.
Although the camouflage version was produced almost from the start, it seems that after approximately S/N C3500S the camo version was the only version produced. I don't know the years of production.
NOTE: There are also 1000 Presentation sets, with a special 4-digit numerical serial number (e.g. 0968), produced as a special tribute to R.W. Loveless who collaborated with Gerber in designing the Guardian knife. This set consists of 3 knives, a Guardian II with 6-3/ 4 inch blade, a Guardian I with 4-3/4 inch blade and a Guardian Back-up with 3-1/2 inch blade. All knives have the satin finish and "DESIGN BY" / "R. W. LOVELESS" etch. The knives come with 5 sheaths, sharpening steel, and several elastic harnesses and nylon belts. The knives and accessories come in a very nice maple wood case with "Gerber Guardian Set" and "R. W. Loveless Edition" imprinted on the top.
There is also a similar presentation set having the camouflage handles and with 3 camo sheaths and 2 leather sheaths. It is Model # 5897 - Camouflage Guardian Kit. I don't know how many of these camo sets were made. The Guardian Kits that I've seen have knives with the normal alpha-numeric serial number (e.g. A8367S) and the serial numbers of the knives do not match.
Share this article
Related Posts