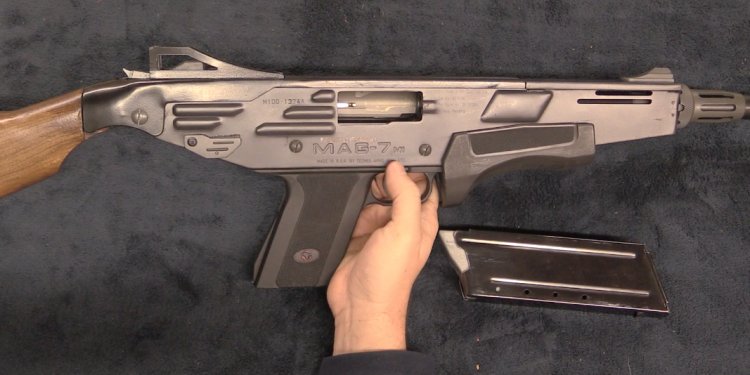 Colt Defender shotgun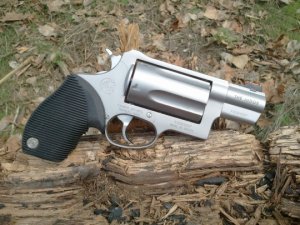 Most shooters know the Taurus "Judge" has been on the market for years. In addition to the original model there have been several new variations released over the years with the PD being one of the newest.
The model reviewed is the Public Defender. The PD fires 2.5 inch .410 shells as well as 45 Colt rounds. There are models of the Judge series that fire 3-inch shells. These are larger in size than the Public Defender. In fact this model is not much larger than a "J" frame with the exception of the cylinder size, which increases the overall size considerably.
It's a very versatile handgun for defense as well as a fitting revolver for those walking the trails or hunting. Of course using 2.5 inch shells loaded with birdshot will take care of snakes or any other small varmints that cross your path.
The Public Defender is an all stainless steel revolver with a 2 inch barrel and a cylinder chambered for 2.5 shotgun shells as well as most (see disclaimer below) 45 Colt loads. The grip is small and would be a good fit for those with small to medium sized hands. Weight comes in at 26 ounces. A good deal of this weight is in the cylinder.
My example has a smooth double action trigger pull coming in at 10.5 pounds. This will most likely decrease with use. The single action is crisp with no creep. With the red fiber optic front sight it's quick to get on target. Of course it has the standard trigger lock built into the hammer.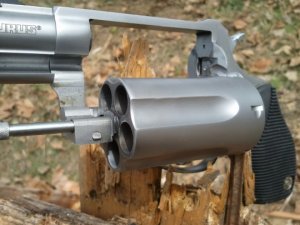 Considering the size of the PD it's obvious it's made more for personal protection than anything else.
The Judge series is responsible for many of the ammunition companies creating a wider variety of .410 ammunition. One of the better defense loads is the Winchester PDX1 personal defense ammo. This is a combination load with three buckshot disk and 12 pellets traveling at 750 fps. Federal also makes a ½ ounce standard slug and 000 buck. An Internet search will yield a good number of loads to fit your needs.
When you talk 45 Colt rounds you need to use some common sense here. Most loads will work fine and be safe to fire however there are those companies who make extremely hot rounds for use in larger framed revolvers. You certainly want to stay away from Buffalo Bore 45 Colt loads and others with similar ballistics. You will detonate the gun and yourself using this type of load! Something along the lines of Winchester Silvertip would be appropriate for defense. The ballistics on the Silvertip send a 225 grn round downrange at 900 fps. That's more than enough for personal protection in the Public Defender.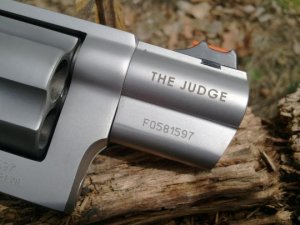 Range Time
I used a wider variety of ammunition for this review because of the ability of this revolver to use so many different loads.
In the range sessions I used the mentioned Winchester PDX1, Federal 000 buck, Federal ½ inch slugs and Federal 6 1/2 birdshot. For the 45 Colt loads I used Winchester Silvertips, which were about 15 years old, but hey they all worked! I also used some handloads of 7.5 grains of Power Pistol under a 250-grain lead round nose bullet.
Starting with the 45 colt loads I found them to be accurate from the 2 inch barrel out to 20 yards. Groups at 10 yards came in at an average of 1 ¼ inch. Backing up to 20 yards, using Silvertips, groups averaged just over 2 inches standing unsupported.
The 410 loads were interesting. The standard birdshot spread out to 9 inches at 10 yards. Taurus says they engineered the barrel to make the shot spread at closer distances. They succeeded a little more than I prefer at that distance. The 000 buck stayed within 6 inches at 15 yards. By far the best results were obtained with the Winchester PDX1. At 15 yards the group spread was between 4 and 5 inches. I would consider this ideal for this type of personal defense ammunition. I did fire a few at 10 yards, which yielded groups just under, and right at 4 inches.
Also, the ribbed grips do a very good job handling recoil not that the recoil is at all bad.
I did shoot some milk jugs of water with 45 Colt Silvertips and the PDX1's. In short the PDX1 load caused more destruction than the Silvertips which did surprise me a bit.
Conclusion
The Public Defender turned out to be a viable option for personal defense especially with loads meant for that purpose. Namely the Winchester Silvertip 45 Colt and the Winchester Supreme Elite PDX1 in .410.
Honestly when I first headed for the range I wasn't that sure the Taurus was really a good idea for defense. With the performance it turned in I see it now as more than adequate for defense and certainly for varmint control.
What would I use for defense? I'd most likely mix the 5 rounds with three Silvertips and two PDX1's or three PDX1's and two Silvertips. I'd be comfortable with either mix.
Share this article
Related Posts