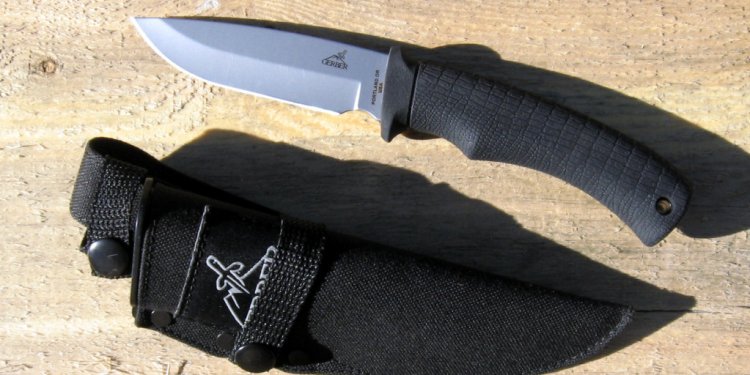 Gerber Fixed
Got one of these a couple years back from Academy. I love it! Very durable, takes and holds a good edge. Handle is durable and very grippy. My only complaint is the sheath. The knife flops around in it loosely. It retains well but makes a lot of noise even when just walking. I got a Wolfe Customs sheath for it and carry it with me all day, every day now.
My wife bought me this knife and I love it. It's all a hunter needs. Small enough to be nimble in a body cavity, but large enough to get crap done. best sheath I've even owned - super secure. Pretty easy knife to resharpen as well. Tough to beat a knife this good for $60. Well done, Gerber.
I'm delighted with this little thing. Lightweight, sharp, and effect. Skinning, dressing and general knife-work's never been this easy. Adore my new blade.
Good knife for cutting string but don't use for cutting Bambo shoots. Bent the edge of the blade over several times. Very disappointed in gerbers "survival knives"
Great knife. I love that it is full tang. Gerber makes great knives.
The gerber myth fixed blade pro has served me greatly. You can gut about 2 deer before it get seriously dull witch is very good. I did an unintended rust resistance test. I had lost the knife for about 2 months until I found it soaking wet and covered with mud. When I took it out of the sheath it was full of mud when I washed it off I found maybe 3 specks of rust the size of pin head witch the average Joe wouldnt have notested a quick wiping of wd 40 and it was ready to go again.
I found this while looking for baby foo
Just got my new knife. Its wonderful! Well balanced, nice weight. My sheath does not rattle. I am a former Marine, and am no stranger to handling a knife. I have several Gerber's. I own several dozen Knives, this is now my new favorite. You got to love the warranty.
Good Overall knife. Like Cody's remark, the handle at first seemed slicker than I wanted. But after some use this has changed. Like a thin packing film was on it but rubbed off from wear. Second point, while the blade in the sheath is secure, it can rattle, even with the rubber handle holder in place. The heft and balance are good, and it is a handy knife. especially for the price. This is definately a good choice for campers, Adult Scouts, BOB.in short, anything you want to do that noise discipline won't get you killed. Airborne!
Great knife but unfortunately The screw rivets on the top of the sheath that holds the rubber lock has unscrewed and has gone missing on one side. Is it possible to get replacements?
This full tang blade has amazing quality and reliability. I have cleaned every sort of game from water fowl to deer to wild boar etc. and this knife has never failed to get the job done. I have had it for about a year and have only needed to sharpen it 3 times. The sheath is of great quality. It is extremely durable and will not let your knife fall out. It also has no wiggle room so there is no noise when on the hunt. GREAT JOB Gerber.
Got this blade a couple of months ago and love it. I used it for EDC. It is the perfect size and the handle is good and grippy. Out of the box very sharp and the colors are just right as to not draw attention to it. My only complaint is that it is only a couple of months old and the sheath has become loose and the blade now wobbles in it. Hopefully the Gerber warranty will cover this. If the warranty covers this I will change my opinion to five stars.I would recommend this blade to anyone.
is a great knife, Gerber is great brand, very sharp and sturdy. been using mine for hunting for years.
I bought this knife a while back and it can almost cut through anything. The blade is the right thickness and the handle is great. It has the right amount of grip. Not to much so you are able to let go if you have to.
Share this article
Related Posts