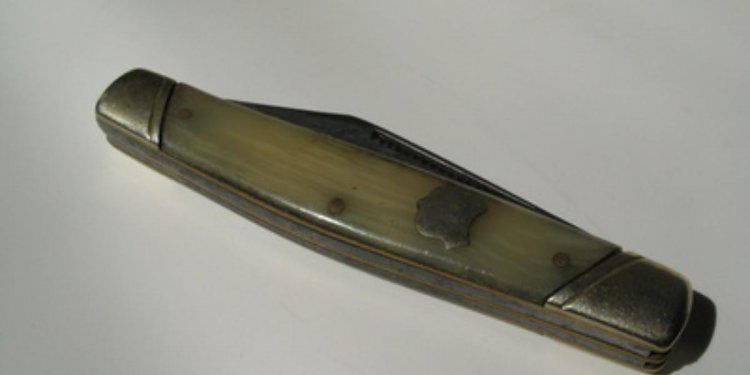 Most Collectible Pocket Knives
There are many different types and sizes of knives, each serving a different purpose for individual needs. Whether purchasing a pocket knife for oneself or as a gift, it is important to know that you are buying the best pocket knife for the job at hand. Below you'll find a guide to choosing a folding pocket knife, covering all of the basic features to look for, as well as some of my personal knife recommendations.
My #1 Recommendation
Choosing just one pocket knife to crown as my number one pick is a difficult thing to do. But if you made me do it, I would choose the Kershaw Leek. A proven favorite and best seller, the Leek delivers high quality and excellent feel at a price that is hard to beat. Other knives on this list sell for $100 or more, but the Leek can usually be had for under $50. It has handled every test I've thrown at it since I decided to give it a try, and I couldn't be happier. It makes a great every day carry (EDC) knife, which is exactly what I needed.
The rest of this article will go over in detail the many different aspects of pocket knives. for knives that I feel are worth your consideration.
Types of Blades
There are many kinds of blades that you will find on the different models of pocket knives. Collectors may focus on one specific type or may prefer to have a variety of each. Every type of blade serves a different purpose, which is one of the many facets to consider when buying. To begin with, consider straight-edge blades vs. serrated ones. Straight-edge, also known as plain-edge, are ideal for clean cuts. They are often the preferred choice for regular use because they are much easier to sharpen than serrated blades. Conversely, fully serrated blades are better for sawing. Those who want the advantages of both can choose a partially serrated blade, although some people don't like to have the combination on a single blade.
Beyond serrated vs. straight-edge blades are the many shapes and sizes. Pocket knife blades are available in no less than 12 styles. You can read about them all in this article, or see five common ones below:
Clip Point – With a cupped edge on one side and a sharp blade that comes to a fine tip, the clip point pocket knife is a great everyday tool. However, the tip of the blade does have a tendency to be fragile, which can cause the knife to be damaged when used with excessive force.
Drop Point – A drop point blade is curved on both sides, one sharp and one flat. The pointed end makes this type of blade is a good choice for hunters.
Hawkbill – Imagine a hawk's bill and you will see what the shape of a hawkbill blade. This is a good choice to keep in a tool box, as it is helpful in tasks where other blades fail. The hawkbill blade is also attractive to collectors who wish to keep their knives on display.
Needle Point – Just as the name suggests, a needle point blade comes to a small, sharp point. A needle point blade is rarely found in pocket knives as it does not have a great deal of utilitarian use. Needle point knives are best for collectors who want unique blades.
Pen Knife – A pen knife is perfect for small tasks. This blade has the same shape as a drop point, but is much smaller and easier to control.
Blade Sizes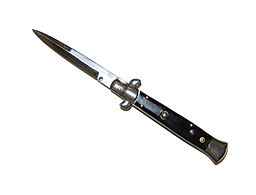 Does size really matter? Some say yes, while others say no. The size of the blade depends almost entirely on how it will be used. Medium sized blades, between three and four inches, are the most versatile. They are strong enough to withstand heavy use, but not so large that they defy laws banning larger knives. Smaller blades, those under three inches, can be helpful with small tasks. Any blade over four inches is better for collectors. Large blades are illegal in many places and should not be carried on a regular basis.
Number of Blades
Pocket knives may be single-bladed or can have multiple tools. The number of blades should depend upon your purpose of use. Many pocket knives have at least two blades. Generally, these consist of a pen blade and a spear point or clip point. The number of blades on a multi-tool knife can vary from three or four to more than a dozen. What is most important is that you purchase the pocket knife with specific blade(s) that you need.
Blade Materials
Blades are usually either made from stainless steel or carbon steel. Knife aficionados often have clear preferences of one over the other. If you are buying a gift for a knife-lover, make sure you first learn about his or her chosen blade material. If you are buying your first-time knife, keep a few facts in mind. Stainless steel knives are less durable and dull more quickly than carbon steel knives. However, carbon steel knives are prone to rust and stain. Generally, stainless steel knives are better for those who may be using their knife sparingly or in wet conditions. Carbon steel are best for those who expect heavy use situations. If you want to read more about knife steels, read our guide to knife steel options.
Handle Materials
Handles can be made of virtually any type of material. Manufacturers choose materials that are durable, light-weight, or attractive. Aluminum handles are very light and durable, which is great for those who need to carry their knives with them during outdoor activities. Sportsmen often prefer aluminum knives, which are available in multiple colors. G10 is similar to aluminum, but is mostly available in black.
Titanium is a highly durable handle material that can be designed to create a beautiful, yet lightweight appearance. Similar in style is stainless steel, which is also less expensive. However, stainless steel knife handles are heavier, which make them a poor choice for those who don't wish to be burdened by the weight of a knife.
Arguably the most durable knife handle is zytel. This thermoplastic material is touted as being unbreakable. Zytel-handled knives are perfect for those who plan to use their knives often or in extreme circumstances. Kraton is a similar material that makes a knife easy to hold. Many knife owners think that rubber handles are the easiest to grip, which makes them perfect for sporting and hunting. However, rubber is not as durable as most other handles, which means they will need to be replaced or repaired. This is less of a concern for knife users because rubber-handled knives tend to be less expensive than some of the other options.
Bone and wood knives, once common for everyday use, are more popular for collectors. Both can be carved with intricate designs, but neither are highly functional in hunting or survivalist situations. Delrin, a thermoplastic created by the same makers of kraton and zytel, can be crafted to create a beautiful knife, but the material is easily scratched when used for more than display.
Opening Mechanisms
There are three basic types of opening mechanisms on pocket knives: manual, assisted-opening, and automatic.
Manual Knives
Most knives are opened manually, usually with a nail nick. The nail nick is a small indentation in the blade that allows the user to open the knife with his or her nails. If you need a knife that can be opened one-handed, there are also thumb stud blades. These let you place your thumb within a hole in the blade, which is then pulled open.
Assisted-Opening Knives
Less common are assisted-opening knives. The user applies directed pressure to get to the blade. These are great choices for those who need fast access to their blades, such as survivalists and hunters. However, assisted-opening knives have fallen under some controversy due to their similarity to switchblades.
Share this article
Related Posts