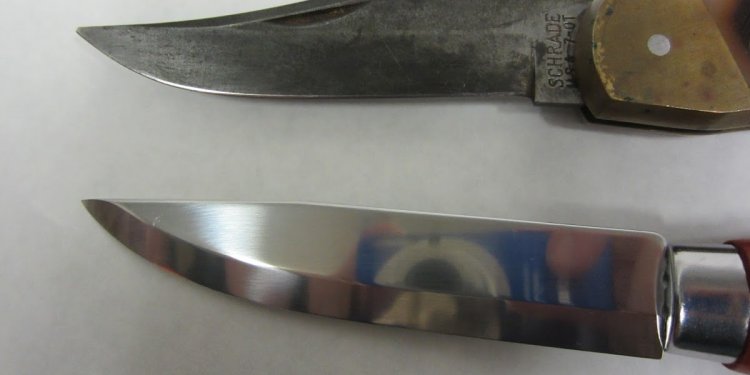 Case carbon steel Pocket Knives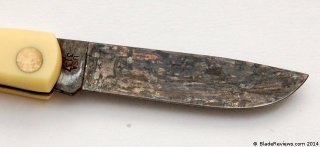 I recently reviewed the Victorinox Cadet. This is a time honored knife, but frankly I was unsure whether many people would be interested in reading a review on it. The feedback was actually really good. So much so that it has encouraged me to write a review on another classic slip joint in my collection, the
I got into the Sod Buster Jr after realizing how much I enjoyed carrying the Cadet, and wanted to venture further into the world of traditional slip joint knives. I've been into modern EDC and Tactical knives for 5 years now, but really know very little about traditional slip joints. So when I knew that I wanted to try another slip joint out it wasn't long before I stumbled across the Sod Buster Jr. Three things really drew me to this knife: 1. It's made in the USA 2. It's under $25 and 3. it features a nice carbon steel blade (although you can get the knife in stainless steel if you want). Throw in the fact that it's made by Case, a company that I know has a serious pedigree in the world of traditional American knives, and I figured it was a great starting point.
I have to say though, I'm not much of a historian. If you are looking for a definitive history of the sod buster pattern then this won't be the place for it. My understanding is that the pattern or style of knife is anywhere from 100-130 years old, and emerged from Germany as a kind of a folding butcher's knife or a clasp knife. It can be loosely classified as a type of peasant or farmer's knife. Case apparently associated the name "sodbuster" with their knife design in the 1960s. If any historians want to correct me or drop some knowledge in the comments section, by all means be my guest. I'll be approaching the knife purely from a utilitarian/general knife enthusiast's standpoint.
General Dimensions and Blade Details
The Sod Buster Jr has an overall length of 6.45″, sports a 2.8″ blade, and weighs 2.19 ounces. For a mild mannered suburbanite these are great numbers. Much like my trusty Cadet, I can easily slip this knife into a pair of slacks and not miss a beat. Of course if you are looking for something a little larger, Case does offer the, and it could easily be carried as well.
The blade is a classic drop point design with a short belly and tough tip. The knife was designed to be used as a utility blade, and it certainly functions that way in the 21st century. The grind is a full flat grind, or something close to it, and it gets nice and thin behind the edge. It is a tool knife and it cuts quite well.
Case actually offers the knife with 2 distinct steel choices. You have their "TrueSharp Surgical Stainless Steel" and their Chrome Vandium (CV) high carbon steel. I opted for the high carbon steel version as the thought of a pocket knife with a carbon steel blade was intriguing (and, believe it or not, is actually a first for this website), and what little preliminary research I did do before buying the knife suggested that the CV steel superior to the TrueSharp stainles steel in the arenas of sharpening and edge retention. Whether that is true in practice is impossible for me to say at this point, but I did notice a good deal of info floating about the web comparing CV to TrueSharp, if that sort of question tickles your fancy.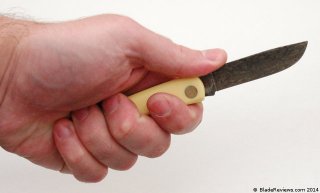 In practice the CV steel exhibited a lot of the qualities I like about carbon steel. It was easy to sharpen and it held a decent edge. It's not a super steel in the edge retention department, but for my purposes it got the job done. I will say that the CV steel does patina (and will rust if you aren't careful). The knife arrives from Case with something of a mirror polish to it. My blade started to get some color after cutting up an apple, and I actually noticed a couple little spots of rust forming on my knife when I left it in a drawer for a few weeks (without oiling it first). At that point it wasn't the nicest knife to photograph so I tried my hand at forcing a patina with some mustard. My results were interesting. The knife definitely darkened and I think it looks pretty cool. It would be even nicer to "earn" that patina over decades of use, but I guess there is still plenty of time for that. At the end of the day for a $20 slip joint the performance of the blade and steel definitely surpassed my expectations. This is a nice little cutter and you will have a hard time finding much else that will exceed it's performance given the price tag.
Handle and Ergonomics
My Sod Buster Jr came with yellow synthetic handles. They offer the knife with black plastic handles, but there is a bunch of writing on the blade, and that didn't appeal to me. The synthetic yellow material is actually quite dense and has a quality feel to it. The yellow has some old school charm to it, almost as if it were made of bone or ivory, and I enjoy that aspect of it. The handle is of pinned construction with brass pins and pivot and brass liners. The backspacer / spring is stainless steel.
Ergonomically, the chunky yellow scales fill the hand nicely and there is just enough room for a 4 finger grip (with large hands). There is no jimping or texturing anywhere on the knife. I wouldn't call the handle slick, but it's not a traction machine either. I was able to comfortably accomplish normal EDC tasks including opening my mail, cutting up fruit, and breaking down boxes. If I had a rocking chair I could easily spend an afternoon whittling on the porch with a corn cob pipe and a fat slug of whiskey.
This also isn't a bad time to point out that the blade centering on this $25 knife is dead nuts center.
Deployment and Lock Up
For your "deployment" you have a nail nick, and the knife doesn't have a lock, so this section once again proves to be a little off point. The action or, "walk and talk" as slip joint aficionados call it, seems pretty good. I don't have enough slip joints to form a frame of comparison, so I won't attempt to rank it on a 10 point scale (slip joint enthusiasts sometimes rank the pull or strength of the spring on a 1-10 scale). I will say that this knife sure as heck isn't opening up by accident, and the blade makes a satisfying snap when it pops open. There is no half stop on this knife.
Share this article
Related Posts