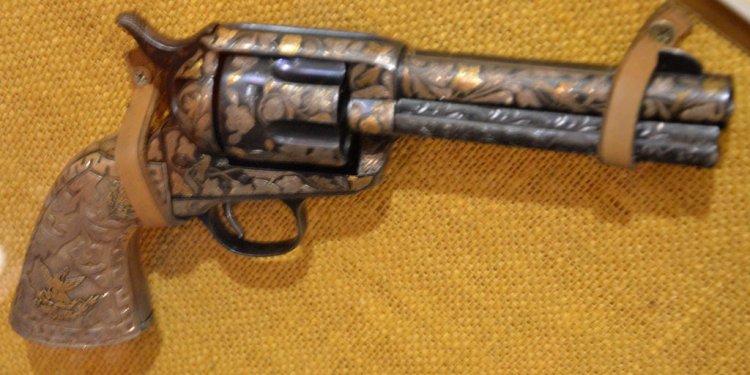 Colt emblem
In 1955 Colt re-introduced its famous 1873 Single Action Army revolver. It was a welcomed reprise of "The Gun That Won The West" and Colt has never looked back, still manufacturing the legendary Peacemaker since 1873 – with a brief hiatus caused by the demands of WWII that kept the Single Action out of the lineup until 1955.
Over the decades there have been many variations of the Peacemaker but never a BB cartridge loading CO2 model, that is until Colt and Umarex teamed up to build an authentic .177 caliber Single Action Army in 2015. The gun is accurate in almost every detail, right down to the Colt patent dates and Rampant Colt emblem on the left side of frame. When I first saw this air pistol last year I was not only amazed at the engineering that had gone into making this all-metal six-shooter, but how all of the famous Colt features had been incorporated right down to the loading gate, ejector housing, hammer, triggerguard, and grip contours. It's as close to the real deal as you can get without loading .45 Colt cartridges.
At about 33 ounces it's a little lighter than a .45 Caliber 5-1/2 inch barrel length Colt Peacemaker, but the Colt Umarex SAA has the same looks except for the addition of a manual safety discretely hidden under the fame and just forward of the triggerguard. The nickel version is a dandy of a gun that will open up whole new avenues for Cowboy Action Shooters to practice quick draw and shooting from the hip, pistol handling and target shooting at close range without the expense or cleanup of black powder or smokeless powder .45 Colt rounds or wax bullets. Dimensionally, the BB gun is dead on. The rebounding hammer feels different, lighter, as there is no actual Colt-style mainspring and the hammer sits slightly back from the frame at rest. Cocking the gun follows normal single action operation by rotating the cylinder to the next chamber. There is a CO2 capsule stored inside the grip to power the .177 pellet downrange at an average of 410 feet per second. Unlike some of the BB cartridges in use, the Colt models load the BB or pellet into the base of the cartridge where the primer would usually go. The brass BB and silver pellet cartridges authentic, though not .45 Colt in size, more like a .32-20 Winchester round, which Single Actions were chambered for beginning in 1884. The gun fits any SAA holster, and even has to be oiled and cleaned (moderately after every 1, 000 rounds) with an available Umarex cleaning kit.
Share this article
Related Posts