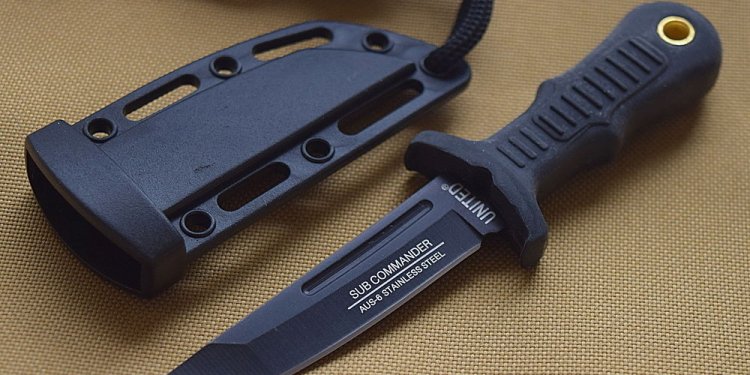 United Cutlery Tanto
There are three main reasons why walking sticks and canes have been produced over many centuries. These include the support or necessity for those that have walking disability, the desire to be trendy and most importantly for protection and self-defense. The popularity of the sword cane started many years ago when Major Morris Wright wounded Jim Bowie seriously with the sword cane during their legendary fight. Since then until today, sword canes and weapon canes have gained lots of traction in every part of the world. More so, the popularity of a sword derives from its ability to be concealed, typically in the handle of the cane.
Now, there are other canes and walking sticks that do not contain a blade, knife or rapier, but holds the ability to bludgeon as a blunt weapon. Our were really intended for those who enjoy America's pastime. However, you could easily defend yourself with this product, especially walking back to your car from the stadium and find yourself in an unexpected hostile situation. One could even acquire a taser cane that dishes out a hard-stopping 1, 000, 000 volts. If you walking through bad areas of town or even out camping, you could successfully defend yourself from wild animals or muggers.
Make Sure you Learn about Safety and Proper Usage of a Sword or Knife Cane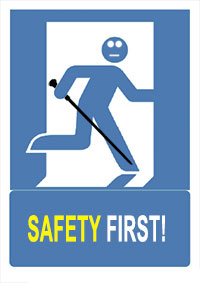 When it comes to the use of a walking cane as a weapon, there are not many weapons you can put into action as fast as our sword canes. If you find yourself in a hostile situation with no other option other than to defend yourself, one simply needs to give the handle of the blade a hard pull out of its sheath, and the blade will jump into your hand for effective action or defense. We recommend seeking a professional or someone with sword fighting experience to ensure your safety and correct usage in the event of a hostile situation. Without having some required knowledge in how to use this walking stick, you could inflict harm upon yourself or another than may end up being lethal.
These instructions are extremely basic and you should still seek a professional for proper stances and usage. The steps you should follow when you want to take action with sword canes include:
Just by giving the handle of your sword cane a firm tug, you will have the full length sword slide out.
Wrap your hand firmly around the sword handle so that the tip of the sword faces upward and the cane knife faces outward. This is to make it easy for you to move the sword in any direction you want for efficiency in defending yourself.
After your action or fight, you need to put your sword back to the scabbard. Be sure to clean off any blood first to prevent your sword from staining. We aren't living in the medieval ages, so your blade needs to be presentable for your next attacker.
Legality of Sword Canes & Weapon Canes
Despite the fact that sword canes was popularly used as fashion accessory for the wealthy during the 18th and 19th century, the weapon origin of the sword cane is not obvious. For that reason, the issue of legality of a sword can depend on your country's legislation. This article will throw more light on the legality of sword canes in most developed countries of the world like United States, United Kingdom, Germany, Belgium and France.
United States of America
Most jurisdictions in the United States have different laws about possession of a concealed weapon or disguised weapon, and since the sword cane is among the factors used to conceal weapon, it is prohibited in different states of the United States. States like Arkansas and California prohibit the use of a concealed weapon.
United Kingdom
In the United Kingdom, sword canes are prohibited in trade. However, an antique sword stick, which has been in the trade for over 100 years, is exempted. So, if you are in any part of United Kingdom, you need to know that Sword cane is prohibited in order to avoid falling victim of a punishable offence. Most sword cane traders that hail from United Kingdom can only ship your order from other branches outside United Kingdom.
Belgium
In Belgium, possession of sword cane is highly prohibited among other concealed weapons. In that regard, you are not expected to use your sword weapon while in any part of Belgium. However, you can use other fashionable walking sticks that are made for the purpose of fashion and nothing more than that.
Germany
Those in Germany are not expected to own any kind of object that can be used to conceal a weapon.
France
While sword canes and weapon canes are prohibited in many other parts of the world, it is widely legalized and acceptable to posses and trade any kind of weapon cane in France. You don't have to worry about being punished by the law in any part of France. You can easily go ahead and get your very own stylish sword cane. Obviously, the legality of sword canes and weapon canes in France is based on the fact that the owner posses the weapon of the 6th category. Though, it is legal to own sword cane in France, the user is expected to take specific care of the sword cane while transporting it from one point to another.
A Must Know about Sword Canes as a Fashion Accessory
It is true that the main objective of word cane is for fight and defense, but the use of it as fashion accessory cannot be undermined. In that regard, while shopping for a sword cane, it is important to have fashion at the back of your mind. There are many well designed sword canes made with the finest and most precious materials, which you need to complement your fashionable outfit to showcase your class as a gentleman or woman. One type of sword cane that comes to mind is a heavy duty sword cane. With the help of a heavy duty sword cane, you will be sure to enjoy a well-designed knife cane that will not only give you enough support but is also stylish to make you distinguishable in a crowd.
Here is an example in how a heavy duty sword cane is crafted. The handle is made with extra strong material from Grivory, while the black shaft is made with thick aluminum that is treated with heat to ensure straightness and agility of the cane. Consider a time when walking down an icy road or rough ground. With the help of sizably conical head of the walking cane, your grip is solid with the extra weight of the cane to prevent falling. There are even swords made with 1055 Carbon Steel which makes it a very formidable sword for any kind of fight. The lightness of sword cane gives you that extra tactical edge in reacting quicker in a life-threatening situation.
Furthermore, the strapping features coupled with sharpness of the blade and the pointed tip made of from a carbon fiber sword cane makes it effective for both thrusting and cutting. Similar in being light-weight, an aluminum sword cane is made to resemble many current fashionable canes out there in the market. As example, an aluminum cane comes with a removable aluminum head which increases the flexibility of use. With the help of the removable aluminum 6160 aluminum head, you can easily customize the handle of your sword cane with any of your preferred engraved image or other personal information you want.
Share this article
Related Posts