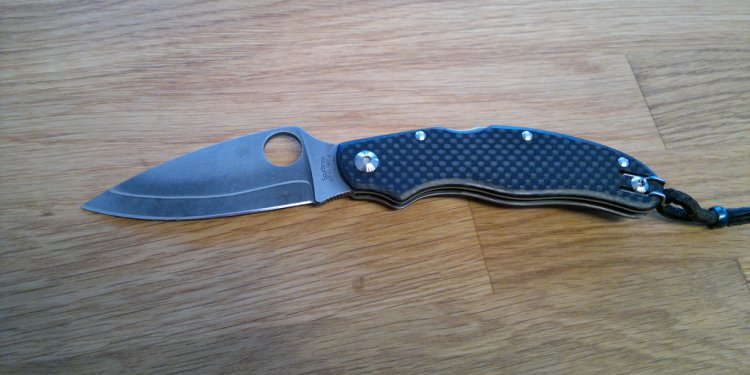 Spyderco made in USA
The Native 5 represents an evolution in American knifemaking with a bold G-10 handle and nitrogen-hardened CPM S35VN blade.
The Native 5 is Spyderco's first production folder made using Crucible Inc. powdered technology CPM S35VN steel. Its flat-ground blade is PlainEdged with a weight reducing spine-swedge made using CPM S35VN. The steel is similarly structured to Crucible's CPM S30V but with the addition of niobium (columbium) carbides along with vanadium and chromium carbides. Niobium makes steel tougher while improving its resistance to wear and chipping and offers improved edge retention over basic smelted high-chromium steels.
The black G-10 handle harbors dual skeletonized liners, a full-length back spacer and a back lock. First introduced to the knife industry decades ago, back locks have undergone many refinements and through better manufacturing techniques are among the safest and easiest locking systems to operate. Today's American-made back-locks have better self-closing ability, smoother action, solid lock-up and ease-in push-release opening for a higher caliber of lock.
Implementation of a new Bushing Pivot System on the Native 5 improves the blade's open/close fluidity while the folder itself is constructed with larger-sized torx screws for simple adjustments and tightening
A four-way, transport-friendly, hourglass pocket clip can be positioned for tip-up/tip-down and left-/ or right-handed carry with a hole through the center of the clip ready for threading a thong or lanyard.
Spyderco's Native 5 showcases the maturation of American knifemaking techniques and how today's modern folders are sharper, smoother and better performing knives than their early back lock predecessors.
Overall Length
6.875 " (175 mm)
Blade Length
3 " (76 mm)
Steel
CPM S35VN
Share this article
Related Posts