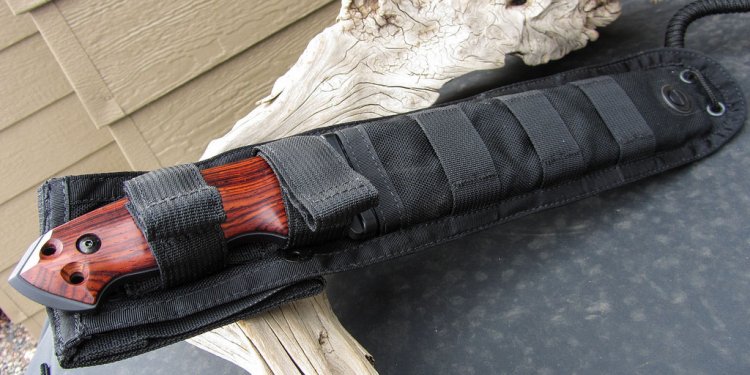 Spyderco Dragonfly Carbon Fiber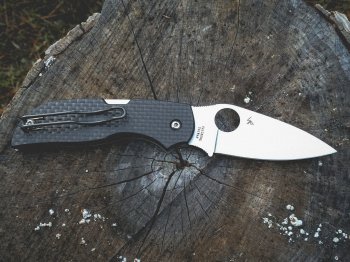 Spyderco Chaparral Review & Giveaway
For many of us, small pocket knives make up a core part of our EDC. However, since the advent of "tactical" knives in the 80s, the traditional, general purpose folders your grandpa was likely to carry faded to obscurity. Even the commonly recommended blades for EDC of today have origins in tactical-style folders. Recognizing this, Spyderco has been producing smaller knives distinctly with everyday utility in mind instead of pursuing the tactical trend. The Chaparral is the latest in their line of EDC-centric folders.
The Chaparral design comes from the founder and head of Spyderco, Sal Glesser, and is manufactured in Spyderco's Taichung, Taiwan facility, which makes easily some of the best production knives in the world. The Chaparral is available with three different handle materials: carbon fiber (as shown in the review), and two different patterns of titanium (at a significantly higher pricepoint). Later production runs of the knife incorporate one of my favorite new steels, CTS-XHP. Other features include a back lock mechanism and a wire pocket clip for a deep, right-or-left-hand tip-up carry.
Upon handling the Chaparral, you can quickly realize how its design emphasizes an EDC role. Its blade stock and handles are staggeringly thin, making the entire package an excellent knife in the hand, in the pocket, and at the cutting board. Its overall shape and appearance make it very similar to a ¾-scaled Spyderco Sage, and its size and ergonomics compare well to the Strider PT. Its thin profile and half-and-half finger choils improve its slicing ability beyond that of the Strider's. Able to recognize and capitalize upon the increasing popularity of compact EDC knives, Sal delivered another impressive stroke of genius in the Chaparral, proving yet again why he's one of the best in the business.
A great idea of a design like the Chaparral needs to be executed well to truly be successful. In general, Spyderco's level of fit and finish is quite good, as seen in their knives from Japan, China, and America. However, nothing they make anywhere else in the world comes close to their Taichung, Taiwan-made knives. The fit and finish of these knives, including this Chaparral model, rivals that found on Chris Reeve's Sebenza and similarly pristine Al Mar knives. The carbon fiber handles are finished well, with no stray threads or fibers. The blade grind is meticulous, even, and clean. The spine of a lockback knife often proves problematic for other lockback knives, but not here—it's airtight. A good pivot and a well-cut Spyderhole delivers a smooth opening. Simply put, this is as good as it gets in the production world.
The Chaparral's excellent performance as an EDC-knife can be attributed to its impressively thin profile. This design decision yields plenty of benefits: carryability, ergonomics, and slicing performance. Its slimness lets the knife just disappear in the pocket. The shape of the handle, with its half-and-half choil, good jimping, and flare at the tail of the blade, helps lock your hand in a secure grip. It's thin enough to allow a true four-finger grip, despite being on the smaller side. This thin blade, easy-to-grip handles, and the ultra-hard CTS-XHP steel all help to overcome the lack of heft when slicing, making the Chaparral an excellent slicer for almost all everyday tasks.
The only noticeable downside was that the wireclip generates an almost instant "hotspot, " or point of discomfort, when applying heavy pressure. Even whittling sticks or prepping tinder to start a fire reveals that the wire clip protrudes too aggressively and uncomfortably for heavy, prolonged use. Given how rare these situations arise, it's not a great cause for concern, but nonetheless something to keep in mind.
Everyday Carry Score: ★★★★★
Pros:
Designed with EDC in mind

Great blade size and shape

Excellent ergonomics

Truly superior steel on CTS-XHP versions
Cons:
Boxy wireclip causes discomfort with heavy or prolonged use
Very few knives on the market can compare to the Chaparral. Its size is perhaps the best available for the average EDCer (although I prefer the Dragonfly by a small margin). The thin profile, superior steel, and refined design of this knife are hard to pass up. If you are looking for an EDC knife, you'd be hard pressed to find better than the Chaparral, especially for the money. It stacks up nicely to my other knives that cost nearly three times as much. My personal recommendation, however, would be to skip the titanium models—their design isn't for everyone, they cost more, and add unnecessary weight to a knife that functions best as a lightweight EDC.
The carbon fiber model is the one to get, and it can be yours through this giveaway: just leave a comment on this post below, and in one week (05/06/14), a winner will be chosen and notified via Disqus reply to receive the review copy shown here, courtesy of the reviewer, Anthony Sculimbrene. Good luck!
Update 05/06: The giveaway has ended. Congratulations to Jim M, whose comment was randomly selected to win the Spyderco Chaparral from this review. Thanks everyone for participating! If you didn't win this time, be sure to keep an eye out for future giveaways and try again.
Share this article
Related Posts