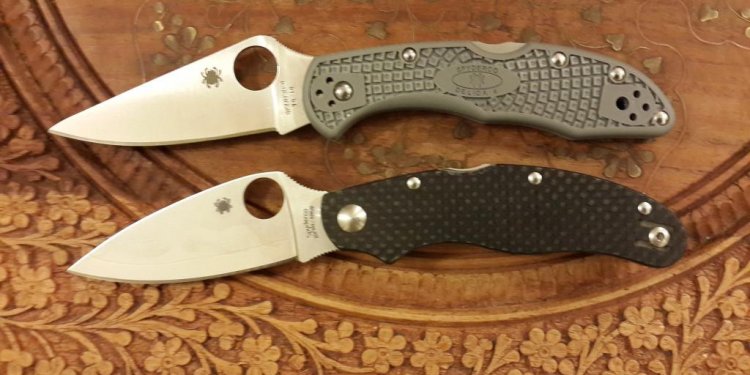 Spyderco Collector
The Native has long been a standard in the Spyderco product line. Originally released in 1997, it blazed a trail as an affordable, extremely ergonomic, lightweight folder. Over the years, it has also evolved to yield several generations of the design, ultimately culminating in the Native5.
The pinnacle of the Native5's evolution and perhaps the most dramatic expression of the design is the Fluted Titanium Native5. Precision machined from solid 6AL 4V titanium, its handle scales feature a stunning CNC-machined sunburst-pattern texture. They are mated to a spear point blade made from premium CPM S35VN stainless steel by a highly refined back lock mechanism that was the product of extensive research and development. The blade's full-flat grind, distal taper, understated swedge, and forefinger choil complement the dramatic style of the handle, while providing exceptional control and cutting performance.
Proudly manufactured in our factory in Golden, Colorado, the Native5 is assembled with flat-head Torx® screws that allow the use of a four-position hourglass clip. This enables the user to configure the knife for tip-up or tip-down carry on both the left and right sides of the body and makes the Native5's operation completely ambidextrous.
This exquisitely crafted knife combines the enhanced function of the Native5 design with stylish collector-quality pride of ownership. The winner of the coveted American-Made Knife of the Year award at the 2011 Blade Show, it is a shining example of Spyderco's commitment to knifemaking excellence.
Overall Length
6.95" (177 mm)
Blade Length
2.95" (75 mm)
Steel
CPM S35VN
Closed Length
4.0" (102 mm)
Edge Length
2.41" (61 mm)
Weight
4.2 oz (119 g)
Blade Thickness
0.125" (3.2 mm)
Handle
Titanium
Clip Position
Share this article
Related Posts