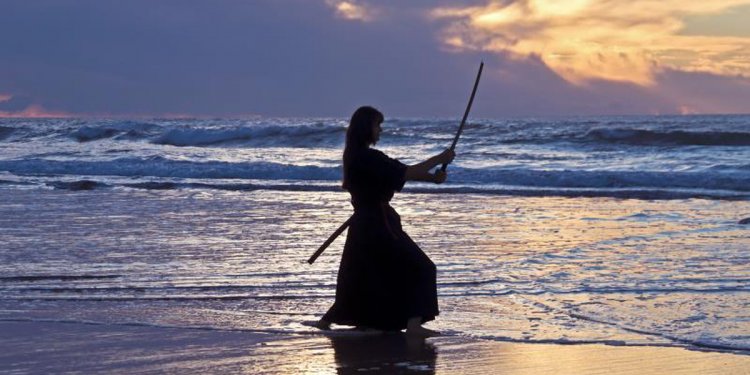 Medieval Samurai Weapons
Of all the weapons that man has developed since caveman days, few evoke such fascination as the samurai sword of Japan. To many of us in the West, the movie image of the samurai in his fantastic armor, galloping into battle on his horse, his colorful personal flag, or sashimono, whipping in the wind on his back, has become the very symbol of Japan, the Empire of the Rising Sun. And, truly, to the samurai of real life, nothing embodied his warrior's code of Bushido more than his sword, considered inseparable from his soul.
Indeed, a sword was considered such a crucial part of a samurai's life that when a young samurai was about to be born, a sword was brought into the bedchamber during the delivery. When the time came for an old samurai to die — and cross over into the 'White Jade Pavilion of the Afterlife' — his honored sword was placed by his side. Even after death, a daimyo, or nobleman, believed he could count on his samurai who had followed him into the next world to use their keen blades to guard him against any demons, just as they had wielded their trusty weapons to defend him against flesh-and-blood enemies in this life.
From the earliest recorded times, the exceptional quality of Japanese swords has made them prized and admired. The care and technical skill that went into the creation of a samurai sword made the finished product not only a noteworthy weapon of war but also a cherished work of art. When Japanese daimyos met, they would admire each other's collection of fine swords. In 1586, when the great Japanese warlord Hideyoshi Toyotomi made peace with his archrival Ieyasu Tokugawa — making possible Toyotomi's conquest of Japan — Toyotomi presented Tokugawa with a splendid sword to mark their newfound alliance. The sword was a work of rare beauty, accounts tell us, crafted by the inspired hands of the legendary Musumane, greatest of all Japanese swordsmiths. Masumane, ironically, rarely signed his work with his name, unlike his brother sword crafters. Ieyasu Tokugawa, meanwhile, became shogun, or military ruler, after Toyotomi's death, founding a dynasty that would rule the country in peace for more than 250 years.
See also:
Share this article
Related Posts