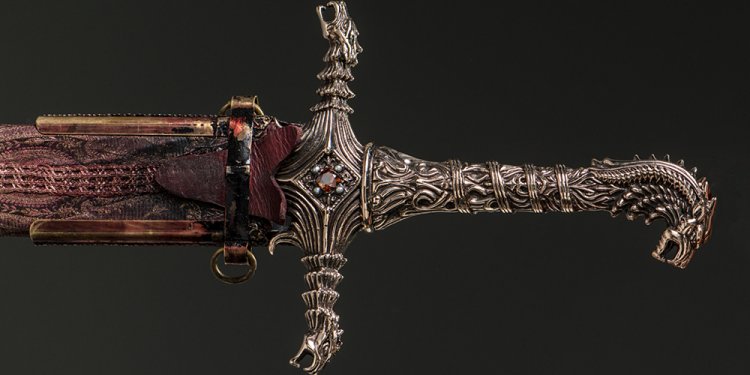 Game of Thrones Oathkeeper replica
Welcome to Valyrian Steel. Your source of officially licensed replica weapons and armor from HBO® 's hit TV series Game of Thrones®, and George R.R. Martin's A Song of Ice and Fire book series.
Reviews / Comments
"Received my sword last week #72 and I must say that it absolutely gorgeous. Well worth the money if your undecided.Great Construction. Keep up the good work V.S."
"Just got #21 of Oathkeeper today and it is absolutely spectacular. The sword is very well crafted and far exceeds my expectations. Will definitely buy from Valyrian Steel again."
"Very solid construction and feel. Intricate details on the hilt and pommel are superb! A bit heavy for actual swordplay but as a decoration, there is no equal. Perhaps a scabbard for it in the future?"
"I am a return customer. I have John Snows sword and scabbard, Jamie's sword #51, and now Oathkeeper #60. I display them with pride. As Mark said, I hope both scabbards for Jamie's and Oathkeeper are to become available. Also, Joffery's sword as well- "
"I received my sword today and it was very well made. It was definitely heavier then expected so overall it kicks ass! Very happy with my choice"
"Bought this for my sister's 21st birthday present and she loves it...and so does everyone else. Excellent quality and beautifully crafted!! Also, took less than a week to ship to New Zealand:)"
"My beautiful, awesome girlfriend just got me this sword for my birthday and I couldn't be happier. As soon as I saw it in the show I fell in love with this sword and it instantly became one of my favourite weapon designs of all time. I can honestly say that ValyrianSteel have 100% done this sword the justice it deserves. Everything is made very sturdy and high quality, I would highly recommend it."
"Oathkeeper just came in the mail and I was blown away by how awesome it is! It's beautifully constructed, and after full inspection, I can't find a single thing wrong. Very happy! Can't wait to order the Catspaw blade next!"
"This is the first sword I\'ve ever held, let alone bought. It\'s pretty amazing, naturally I\'m gutted I wasn\'t brave/rich enough for the Damascus version but I\'m happy with this. I got #18. I spent an hour or so mounting it on the wall which I\'m pretty chuffed with. I have very limited DIY experience and was dreading doing this but it was relatively simple with a few basic tools - all I had was a spirit level, a measuring tape, a pencil and a screwdriver. It\'s pretty firmly on the wall. Minus one star because the lion head on the end of the hilt (pommel?) seems like it could\'ve/should\'ve been a tighter fit. It isn\'t loose but it isn\'t flush - noticeable gap between grip & pommel."
"The sword itself looks great but the blade wobbles forwards and backwards and the faux Ruby\'s have been put in wonky and thus they partially protrude from the fitting, so overall a good sword but with the faults not really worth the £270, without the faults id be happy to pay the full amount"
"If you display the sword as a fan, like me, than this is definitely the way to go. I like the fact that it needs no maintenance unlike Ice, and it's virtually the same look. It's very heavy, though I'm disappointed by the shine of it. I thought the handle would be more brassy. It has a solid feel and it's worth what you're paying for it. Let's go save Sansa"
"I ordered Oathkeeper and received it in exactly 7 days. Sword is a bit heavy, but is well built/solid. Other people have said the pommel was loose, but not the case for me. Everything on the sword is perfect. My only complaint is that UPS left it on my door without requiring a signature. Luckily I was home to get it right away, but if I hadn't been, it could have potentially been stolen. On the lighter side, Funny thing is that I received #1200! I didn't know that many had been sold already. But o well, such is life. I will definitely be ordering more from VS."
Share this article
Related Posts