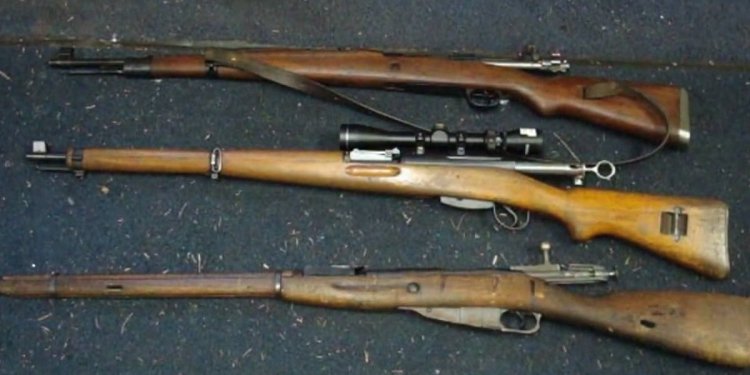 Where to surplus rifles?
Today's gunfight pits two WWII vets against each another: the British Lee–Enfield Number 4 Mark 1 and the Mauser 98k. These rifles met on battlefields in Italy, France, Germany, and North Africa, among other places. But both of these particular guns have since been repurposed for more peaceable uses. The Lee–Enfield is an unusual sporter configuration, while the 98k is an interesting trophy and shooter.
New River Valley Outdoorsman's Lee–Enfield
This is my Navy Arms Gibbs Summit rifle. It's obviously a converted Lee–Enfield—and it's in .45-70 caliber! The Navy made these rifles on surplus #4 Mark I actions, new barrels, and Parker–Hale walnut stocks. They sold very well, but the shortage of actions meant a short production run. Navy Arms told me that about 500 Summit rifles were made, and there was also a variant Frontier, built on the earlier No. 1 Mark III action.
Though sporting conversions of Lee–Enfields aren't uncommon, they're usually in the original .303 caliber, but the flat bolt face of the Enfield is well-adapted to the .45-70's rim. Navy Arms designed a new magazine to handle the fat cases. Lee Enfields in .45-70 are thin on the ground. The Summit is a real bruiser. The No. 4 action is designed to handle pressures well beyond the conventional .45-70 loads, and this rifle is suitable for use on any animal in North America and any non-dangerous game in Africa. Using Hornady's 350-grain jacketed soft-point bullets over a stiffish load of IMR 4198, I've killed deer with it that died so fast they still don't know they're dead.
Share this article
Related Posts