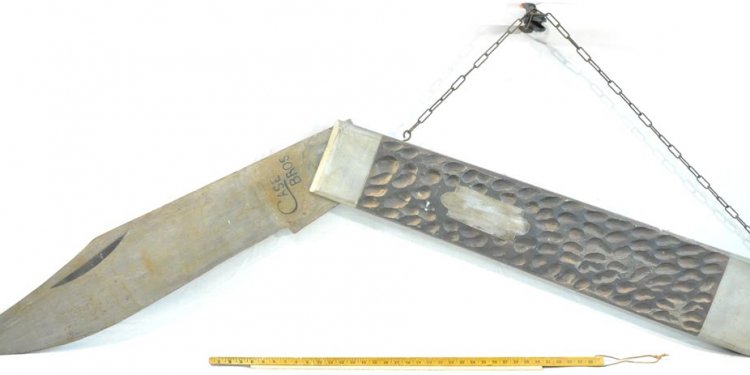 LeRoy Merz antique Gun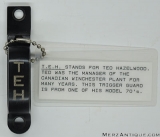 Old Gun Parts
Aside from a few barrels and sights listed on this page, we generally we do not have any old gun parts for sale. We usually end up needing spare parts ourselves. Antique gun parts can be hard to find and expensive. Even if you think you have found the right part, it might not fit quite right in your particular gun. If you have an old Winchester or other antique gun that needs parts, we can save you a lot of trouble and expense by buying the gun from you the way it is today, rather than attempting to find the right parts on your own. Well enough talking. Here are the old gun parts that we have for sale.
W221 WINCHESTER MODEL 12 12 GAUGE BBL
Item # W221
29-3/4 inch Model 12 barrel with a Full choke and 2-3/4" chamber. A dirty bore that should clean up nice. Thinning original blue.
No License Required $ 225.
MOSSBERG REAR SIGHT
Item # el-0-819X
No. S102; Missing screws, 20-35. Exc. 2 to choose from.
$ 25.
WINCHESTER MODEL 70, 26 .220 SWIFT BARREL
Item # 8B-0-879
All markings exc, 98% orig finish, re-bored to 25-06 Cal.
$ 225.
WINCHESTER M-70 TRIGGERGUARD
Item # el
Engraved 'TEH' FOR TED HAZELWOOD, MANAGER OF WINCHESTER'S CANADA PLANT. This triggerguard came from one of his personal M-70's.
$ 125.
WINCHESTER MODEL 52 SECTION OF BARREL
Item # el-9-543
Showing the chamber and rifling. Used for demonstration purposes. One side is stamped 2450 RDS." Apparently this is a demonstration of the wear inside the barrel and chamber after firing 2450 rounds.
No License Required $ 75.
9-542 WINCHESTER MODEL 94 LEVER
Item # el-9-542
In the first casting stage before the final milling was done.
Antique $ 150.
WINCHESTER MODEL 1300 CUT-AWAY FRAME
Item # el-9-541
Used for demonstration purposes.
WINCHESTER CUT-AWAY BARREL ASSEMBLY
Item # el-9-534
This cut-away model features the Win-choke.
Antique $ 100.
EL-9-533 GROUPING OF 4 WINCHESTER MODEL 59 BARREL ASSEMBLIES
Item # el-9-533
Consisting of 3 barrels to show various stages of completion and 1 completed with cut away on chamber.
Antique $ 395.
WHITNEYVILLE ARMORY MARKED CARBINE BARREL
Item # ELSM5-602
45-60 Caliber. 22, fine bright shiny bore, 95% bright blue, some corrosion on the threads.
MARLIN TRAPPER BARREL
Item # ELSJM-200
Caliber .32 H.P.S., 15, minty.
$ 650.
LYMAN REAR SIGHT
Item # el-0-798
No. 57-SME; Springfield 1903, M1, M2; Mauser 1891, 1893-6, 1898, 1904, 1090, 1936. Exc cond.
$ 75.
Item # el-0-803
No. 66-R; Winchester 150, 290; Remington 760, 740, etc.
Share this article
Related Posts