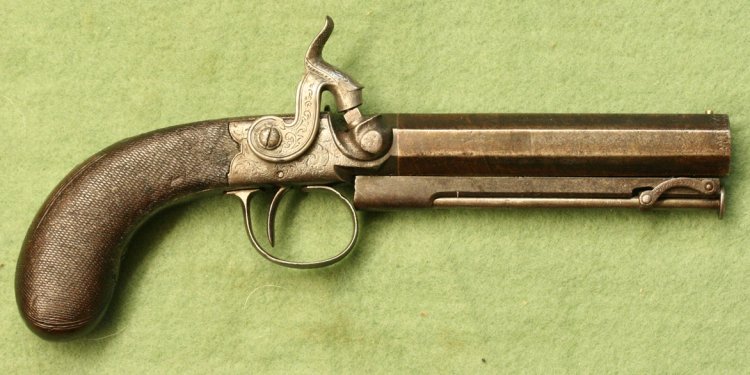 Antique Gun list
It is unlawful to knowingly possess any handgun, including any antique handgun, without first having obtained a Permit to Carry, and it is unlawful to knowingly possess any rifle or shotgun without having first obtained a Firearms Purchaser Identification Card (FID), however, no Permit to Carry or FID is required:
To keep or carry any firearm about a person's place of business, residence, premises, or other land owned or possessed by him; a place of business shall be deemed a fixed location.
To carry any firearm unloaded and contained in a closed and fastened case, gunbox, securely tied package, or locked in the trunk of the automobile in which it is being transported and the course of travel shall include only such deviations as are reasonably necessary under the circumstances from any place of purchase to his residence or place of business, between his dwelling and his place of business, from one place of business or residence and another when moving, or between his dwelling or place of business and place where such firearms are repaired, for the purpose of repair.
To transport such firearms as necessary for target practice, in the manner described in paragraph 2 above, by a member of a gun club organized in accordance with the rules prescribed by the National Board for the Promotion of Rifle Practice in going to or from a place of target practice, provided the club has filed a copy of its charter with the Superintendent of State Police and annually submits a list of its members to the superintendent.
To transport any firearm, in the manner described in paragraph 2 above, while traveling:

Directly to or from any place for the purpose of hunting or fishing, provided such person has in his possession a valid hunting or fishing license.
Directly to or from any target range or other authorized place for the purpose of practice, match, target, trap or skeet shooting exhibitions.
Directly to or from any exhibition or display of firearms which is sponsored by any law enforcement agency, any gun club or gun collectors club for the purpose of displaying the firearms to the public or to members of such organization or club, provided that not less than 30 days prior to such exhibition or display notice shall be given to the Superintendent of State Police by the sponsoring organization or club and the sponsor has complied with such reasonable safety regulations as the superintendent may promulgate.

To carry a firearm in the woods or fields or upon the waters of this State for the purpose of hunting, target practice, or fishing, provided that the firearm is legal and appropriate for hunting or fishing purposes in this State and the person possesses a valid hunting license, or, with respect to fresh water fishing, a valid fishing license.
To transport firearms by a licensed dealer in firearms and his registered employees during the course of normal business, provided the firearms are transported in the manner described in the second paragraph above.
For members of the armed forces or National Guard while on duty or traveling between places of duty and carrying authorized weapons.
For federal law enforcement officers and any other federal officers and employees required to carry firearms in the performance of their official duties.
For law enforcement officers, vehicle inspectors, prosecutors, and assistant prosecutors.
For guards and persons with limited police or arrest powers while in the performance of their duties.
For out-of-state law enforcement officers while actually engaged in official duties, provided that the Superintendent of State Police, or the police chief, or county prosecutor of the county where the out-of-state officer is engaged in official duties has been notified.
The FID requirement for rifles and shotguns does not apply to antique firearms, provided that such antique firearms are unloaded or are being fired for the purposes for exhibition or demonstration at an authorized range or in such other manner as has been approved in writing by the chief law enforcement officer of the municipality.
It is unlawful to knowingly possess any firearm in or upon any part of the buildings or grounds of any school, college, university or other educational institution without the written authorization of the governing officer of the institution, irrespective of whether the person possesses a valid permit to carry the firearm or a valid firearms purchaser identification card. This prohibition does not apply to persons listed in paragraphs 7 through 11 above.
A Permit to Purchase or FID is not required for the passing of a firearm other than an assault firearm upon the owner's death to his heir or estate.
No person under 18 may possess, carry, fire, or use a firearm except:
In the actual presence or under the direct supervision of a parent or guardian, or some other person who holds a Permit to Carry or FID; or
For the purpose of military drill under the auspices of a legally recognized military organization and under competent...
Share this article
Related Posts