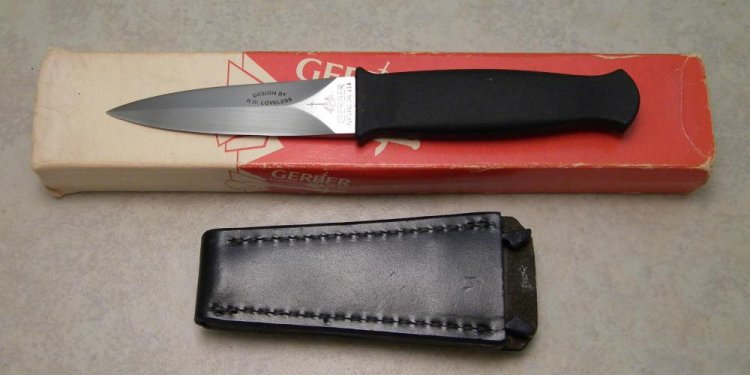 Gerber Portland Knife
I purchased a ghost strike fixed blade knife with ankle wrap. I love the knife, and being able to carry with the ankle wrap. I purchased the complete kit just a few months ago, and the Velcro and hook portion of the ankle wrap is already worn out, because I wear the knife every day. I'm very disappointed that the ankle wrap only lasted this amount of time, it will no longer stay secured on my ankle area.is there a possibility to purchase the ankle wrap only.
Thank you,
Keith
This is a great little knife. I love all of the carrying options. Very comfortable and light when used with the ankle mounted sheath. I am anxious to see the maintenance routine in keeping the screws secure.
This is a great EDC knife. I carry it horizontally in the 6 o' clock position. It fits so well when concealed that I often forget it is there.
I've bought one of the ghoststrike. I live in Salem, Oregon
is it legal to carry this concealed?
I'll start off by saying this is a great knife for anyone to carry. The best features are hands down the size, weight, and carrying options if you want a knife you can take everywhere this is the one. My only complaints are that the grip is a little to small for certain tasks and the blade doesn't come razor sharp from the factory but as an overall package gerber really delivered with this knife and I personally carry it every day.
Thanks Gerber.
Great multi perpose knive for any daily outdoor activities and it is extremely comfortable and it keeps a low profile
Ghoststrike has correctly landed. I got this for rides on mountain-bike when, in the middle of nowhere, you are in front of a friendly big black dog which is barfing at you between its cute white teeth with a nice glance for your calfs . I feel a little bit secure. Light to carry and easy to catch. (y)
Solid knife. Bad ankle brace
not bad still cool i like how you can carry it on ur belt or lage nice job gerber
The knife itself is great and the sheath is good quality and offers good retention. I got this for days that I work on the ambulance and figured it would be a good EDC back-up. It is great when I wear low cut boots or shoes. But the ankle wrap will not fit around my boots. It is very snug when worn with just my ankle and sock. Just for reference I am 6'4 and weigh 250. I gave it three starts due to the quality of knife and sheath, and I still can use it EDC'ing and I have other plans for it. Moral of the story if you are a full sized guy and want to wear this with boots it wont work out to well.
Share this article
Related Posts