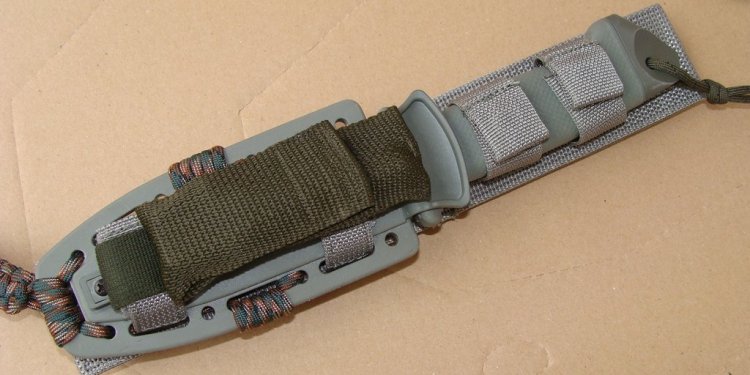 Gerber LMF 1
We were sent Gerber's LMF knife to review about a month ago and we were headed to an Alpha outing when it came. I guess you all know how hard I am on knives by now, judging almost every knife by my beloved, inexpensive "Ka-bar". The nice thing about Ka-bar is that you get a good knife at a good price... but if price is not an option, by-all-means, get the best knife you can get! I always tell people who ask, "If I was going to spend more than 35 bux for a knife I would go ahead and buy a Gerber". The LMF I was sent to try reinforces that opinion.
BTW, The "LMF" stands for "Lightweight Multi-Function" Tactical Knife. I wondered about that for a while before finding out. It comes standard with a full length, black, cordura sheath with Bianchi clip and leg tie. Everything about the knife says "Quality" including the sheath. If I say that word a lot in this review it's because I was impressed by the attention to detail and workmanship.
At the outing I passed this knife around a lot and let everyone get the feel of it... over and over again I heard the same comment, "I am in LOVE with this handle!" (I am too, it feels great!). The handle's feel is due to the Dupont Hypalon that it's made from; you'll have to try it to believe it. This knife cuts and chops with the best of them but is small enough to stay out of the way when you aren't using it. Is the price more than a Ka-bar? Yes. Is the quality better than a Ka-bar? No contest, they are two different worlds of quality! Gerber got to be the big name it is based on the word "quality". So if you've reached the point in life where you can afford to have something better than the old (but faithful) Ka-bar, Gerber is it.
The Down Side:
I am told that brake fluid will pit the handle on the LMF. It is a great feeling "hard-sponge-like" surface, molded to the shape of your palm, but DO NOT expose it to brake fluid. Contact the company for more details.
Would WE Buy It?:
YES! I am a fan of the bigger knives so I plan to buy a Gerber BMF (which is the LMF's bigger brother) soon ... still has that great-feeling handle on it too!
Technical Specs:
10-5/8" overall. 6" blade with or without chisel tooth saw. Dupont Hypalon cushion grip handle.
OTHER:
For Warranty info please check the Gerber site:
Send Warlord E-mail.
Address:
www.AlphaRubicon.com
All materials at this site not otherwise credited are Copyright 1996, 1997, 1998, 1999, 2000 Trip Williams. All rights reserved. May be reproduced for personal use only. Use of any material contained herein is subject to stated terms or written permission.
Share this article
Related Posts